Remembering our Ten Mile Lake Friends...2016
Mariana Rita Goowin, 82, of Walker, MN died at the May Creek Senior Living Campus on December 18, 2016.
Mariana was born August 28, 1934 to Clarence and Sadie (Meyer) Elsenpeter in Chicago, IL. She grew up in Walker, MN, attended Walker schools and graduated from Stonebrook Hall in Duluth, in June of 1952. She graduated from the College of St. Scholastica Duluth in May of 1966. She pursued studies in history at Wake Forest University and the University of Connecticut.
Mariana entered the Benedictine Convent in 1953; she had teaching assignments in Grand Rapids, MN, Minneapolis, MN, and in Phoenix, AZ. In 1973, she joined the Cloquet school system and taught in the high school until she retired. Upon retirement, she moved to Ten Mile Lake in Hackensack, MN until 2005. At that time, she moved to Sun City, AZ.
The summer of 2015, Mariana moved back to Walker, and resided at May Creek Assisted Living Center until her death. She had married an old classmate, Ned Goodwin from Bemidji on December 30, 1994. They were married for 13 years and lived at Ten Mile Lake and Sun City, AZ. Ned preceded Mariana in death in 2008.
Mariana is survived by her brother, John (Vicki) Elsenpeter; their five children, Susan, Mike, David, Karen and John Paul; and thirteen great nieces and nephews.
A private funeral Mass was held Friday, December 23, 2016 at St. Agnes Catholic Church in Walker, MN.
Arrangements were by Dennis Funeral Home of Walker, Minnesota.
Provided by Sue Jaeger
Daphne Young Fletcher crossed over into Heaven from her home on Saturday, December 17, 2016, surrounded by the love of family. She and her sisters Diane, Gail and Susie grew up in a large and loving family that taught her to serve her faith, her family, and her friends with every gift she'd been given. She did all of that in abundance while also devoting a great deal of time and energy to doing what was silly and fun.
She married the love of her life Richard A. Fletcher in 1962 and moved with him to Phoenix where they raised their four children, and she became a favorite Aunt and other-mom to hundreds more nieces, nephews, and friends of family over the years. The Fletcher's beautiful home always reflected her joy in flowers and gardening, and Daphne offered community leadership to efforts like the Junior League of Phoenix, founding the Women's Board of the Kidney Foundation with her friends, helping her sister Susie and brother-in-law Dr. Kipp Charlton to start the Child Crisis Nursery, and then worked with her twin sister Diane to support the National Fragile X Foundation for the past 20 years. She was an avid horsewoman, and spent countless hours with sister Susie at their beloved Bar Keema Ranch in Scottsdale, and roaming the highways with horse trailer and children in tow - occasionally arriving at the horse shows on time and without getting lost. Occasionally. She and Dick loved their summer home at Ten Mile Lake in northern Minnesota, and welcomed countless friends and family to share in the magic of being together, hosting wonderful parties featuring lake views and Dick's pizza oven.
Daphne and her sisters were extremely close, and she relied on the support and counsel of her older sister "Gailie" from her first days to her last. She enjoyed the gift of great friends throughout her life, and cherished her friends as family. Anybody who had the privilege of meeting Daphne would recount for you that when they were with her, they felt they were the most important person in the world. But her greatest friendship and partnership was with her husband, Dick. Their love, affection and care for each other for a lifetime was an inspiration to their children. Daphne's family, children, grandchildren and friends will miss her acutely, but are comforted by her great faith in God and the promise of eternal life, love and presence.
Daphne is survived by her husband, Richard A. Fletcher, son Richard Fletcher, daughter Lisa Keegan (John), daughter Anne Souder (Jay), son John Fletcher (Terumi), grandchildren Justin Graham, Annie Graham, Alec Souder, Lena Fletcher, and Yoshiki Fletcher, sister Gail Koch (Harry) and many much-loved cousins, nieces and nephews. Private family celebrations will be held in Phoenix and Omaha. Gifts in honor of Daphne's life may be made to National Fragile X Foundation at www.fragilex.org or NFXF; 2100 M Street, NW; Washington, DC; 20037-1233.
From John Keegan
Charles (Chuck) Frederick Hamsa (78) passed away peacefully at home in Cedar Park, Texas with his loving family close by on Monday, November 28, 2016. He was born on July 17, 1938 to William R. Hamsa, Sr. and Anna Marie Brodegaard Hamsa in Omaha, Nebraska.
Chuck grew up in Nebraska, graduating from Benson High in 1957. Most of his summers were spent at his favorite cabin on Ten Mile Lake in Hackensack, Minnesota. He attended the University of Omaha until he joined the U.S. Navy. He was stationed most of his service in Japan. He returned and finished his B.S. in History in 1964. He met his wife, Sara shortly before he graduated and they were married on June 11, 1966 in Tecumseh, Nebraska.
After they married Chuck attended the University of Nebraska in Lincoln and obtained a M.S. in Latin American History in January 1969 and then a M.S. in Library Science from Kansas State Teachers College in Emporia, Kansas in August of 1969.
In the fall of 1969 Chuck accepted a position at the University of Southwest Louisiana (University of Louisiana at Lafayette) in Dupre Library. He served as Acquisition Librarian for many years then worked in the Reference Department until his retirement in 1999. In 2007 Chuck and Sara moved to Cedar Park, Texas to be closer to their son and his family.
Chuck's interests were many and varied. He was involved with the organizing of the Acadian Village in Lafayette, member at Grace Presbyterian Church (Lafayette) where he was a Deacon/Elder, blacksmithing at the Village, member of the Masonic Order, being "Papa Noel" for many years in both Louisiana and on the Austin Steam Train in Texas in his special outfit, and a member of Hope Presbyterian Church. He was also an avid supporter of Living History attending many rendezvous around the country for over 20 years. He played the accordion for many years with small groups. He was on the Cedar Park Tourist Board when the Veteran's Park was started. He co-authored several books with his mentor Dr. Norman Heard. His love of life was a treasure and he lived it to the end.
Chuck and Sara were blessed with one son Michael Boyden Hamsa and daughter-in-law Julie Richison Hamsa, three beautiful grandchildren, Emily Nicole, Matthew William, and Amanda Katherine. Chuck is survived his wife, son, one brother William R. Hamsa Jr., seven nieces and nephews, and many great nieces and nephews.
In lieu of flowers please send donation to your favorite charity in his memory.
David Grove Cox, 52, son of Tom and Sarah Cox, died at his home in Centennial, Colorado on September 26, 2016.
David graduated from Langley High School in McLean, VA and earned a degree in Computer Science from Virginia Polytechnic Institute in Blacksburg, VA. He worked for several engineering companies in Virginia until the dot-com bubble burst, and the Israeli communications company he was working for closed its US office in Reston, VA. At that time, David moved to Colorado and set up his own company, DC Controls, LLC, which provided consulting to other tech companies. Wherever he worked he made connections that remained lifelong friends.
While David was not married and had no children, he was a beloved uncle to his cousins, nieces, and nephew. He always came to Ten Mile Lake for at least three weeks in the summer, where he competed with his brothers in tennis and waterskiing.
He loved music and was always trying new things musically. At his house, his family found a keyboard, an electronic drum set, a trumpet, a saxophone, a flute, and five guitars, all of which he could play. One of the guitars he had made himself as a High School shop project. He also loved to tinker with electronics, such a little objects with glowing lights.
David is survived by his parents, his brothers Geoffrey (Susan) and Tom (Oksana), nephew Kevin, and nieces Stephanie, Tanya, and Sasha. He is also survived by his friend Marguerite Marbun; his aunt, Dianne Olsen; Dianne's daughters Lise (Eric) Olsen-Dufour and Sara Olsen; and Dianne's granddaughters Emma, Amanda, and Donya.
The family will hold a private celebration of David's life in July, at their Ten Mile Lake home. Provided by Sarah Cox
Beverly Ann Riess, 70, passed away peacefully surrounded by her family at St. Mary's Hospital, Rochester, MN, on Tuesday, August 23, 2016. Memorial services will be held at 11 a. m. Monday, August 29, 2016 at Lutheran Church of Hope in West Des Moines followed by a lunch reception and gathering of family and friends.
Beverly was born December 26, 1945, in Sheldon, Iowa to Marshall and Maureen ( Wilcoxon) Wynn. Growing up in Iowa, Beverly happily spent her teenage years in Monticello. With her winning smile and vibrant spirit she was a natural leader in community and school activities, including leading the band with her flaming baton.
Her adventurous spirit led her to the University of Northern Colorado where she earned her undergraduate degree in education. She taught in Nevada before returning to Iowa to teach second grade at Malcolm Price Laboratory School and earned her Master's Degree in education at the University of Northern Iowa.
Bev married the love of her life Bill Riess in 1978. Soon after, they moved to the Boston area where they made lifelong friends. In 1991 they moved back to Des Moines and Bev returned to her greatest passion, education. She was selected as the Student Teaching Coordinator for UNI where she placed student teachers in Des Moines classrooms. Educators throughout Iowa will fondly remember their wise, caring and supportive mentor. She lent her many gifts to UNI, notably her work with the Alumni Association and leading a campaign for the University of Northern Iowa Foundation. In 2013 she received the distinguished Alumni Service Award from UNI.
Bev and Bill loved spending their summers at 10 Mile Lake in Minnesota and winters at Trilogy in Gilbert, Arizona, surrounded by family and friends. The consummate hostess, Bev gathered her neighbors and friends for conversation, connections and laughter. With boundless energy and impeccable style, she brought out the best in every organization, student teacher, group and friendship that she touched. Above all, Bev loved spending time with her family and friends, especially her grandchildren, Luke and Allie.
Beverly is survived by her husband, Bill Riess and daughter, Jennifer ( Tim) Lundberg; grandchildren Luke and Allie of Des Moines; sisters, Marlene Behn of Cedar Falls and Colleen Bowers of Mason City; and three generations of nieces and nephews. And she loved them all.
Beverly was preceded in death by her parents, brothers in law, Parke Behn and Bud Bowers and nephew, Brock Behn. Heaven gained the most beautiful angel today.
In lieu of flowers, memorial contributions may be directed to the University of Northern Iowa Foundation or to Lutheran Church of Hope, West Des Moines.
Information provided by Maggie McGill
Charles Lee Krueger, age 72 of Andover and Hackensack, Minnesota, passed away surrounded by his family on August 22, 2016. Charles was preceded in death by his parents Roland and Delma Krueger.
Chuck is survived by his sister Katie; wife Nancy; children Nicole (Chris), Aaron (Jill); grandchildren Blake, McKenzie, Lilli, Madison, and Myah.
Chuck will long be remembered for his fish fries that coincided with Harry Rhodes pig roasts on Foresman Point. Chuck is also remembered by many of his Ten Mile friends and neighbors as an avid fisherman, hunter and a person that cared much about Ten Mile Lake, its history and its future.
Chuck served on the Ten Mile Lake board throughout the years and will always be thought of as a compassionate giver of his time for the betterment of Ten Mile Lake.
A celebration of life event for Chuck will be held at the Hackensack American Legion on September 10, 2016 at noon. We love you Chuck, you will be missed by many, but we know you are now fishing on the best lake there is on the waters of heaven!
Information provided by Kari Ann Kather
Mary Jo Holte, 81, a resident of Bettendorf, Iowa, passed away peacefully surrounded by her children, Tuesday, August 16, 2016, at the Clarissa C. Cook Hospice House in Bettendorf, Iowa. Funeral services and a Mass of Christian Burial for Mary Jo were at 10:00 a.m. Friday, August 19, 2016, at Sacred Heart Cathedral. Burial was at Mt. Calvary Cemetery in Davenport.
Mary Jo Burke was born June 8, 1935, in Oelwein, Iowa, to Harold J. and Dorothy (Struckman) Burke. Mary Jo graduated from ICA in 1953, and went on to Clarke College in Dubuque and received her RN degree from the University of Iowa. She was united in marriage to Dr. James A. Holte, April 11, 1959, at Sacred Heart Cathedral in Davenport. He preceded her in death February 10, 2002.
Mary Jo was a loving wife, mother, grandmother, volunteer and friend to many. She had worked as an RN for Dr. A. Swearingen at the Bettendorf Medical Center for many years. She was a lifelong supporter of the University of Iowa, a member of Friends of VanderVeer, PEO (Chapter LM), and Questers. She was a master gardener, and past volunteer at the Festival of Trees and delivered Meals on Wheels. She loved gardening, fishing, playing bridge, traveling and entertaining, but her greatest joy was spending time with her family and friends, especially at her second home on the north shore of Ten Mile Lake in Hackensack, Minnesota.
She was an avid fisherwoman and loved spending time on Ten Mile in search of walleyes and listening to the loons. Her beloved yellow lab, Babe, would sometimes keep her company on her fishing expeditions. Some of you may remember Mary Jo as the woman who walked on County 50 with the dog who carried her own leash.
Mary Jo is survived by her children; two daughters, Tracy (Jon) Wright of Hackensack, MN, and Katherine (Nicholas) Romano of Ackworth, IA; two sons, James B. (Julie) Holte of Coralville, IA, and Daniel (Deborah) Holte of Kirksville, MO; ten grandchildren, Dillon and Jake Wright, David, Andrew and Ryan Holte, Nicholas James Romano and Michael Romano, Nathaniel, Kallie and Cohen Holte; and two brothers; Patrick (Nannette) Burke, Chandler, AZ, and Mike (Amie) Burke, Gilbert, AZ.
She was preceded in death by her husband and parents. May they rest in peace.
Online remembrances and condolences may be expressed to the family by visiting Mary Jo's obituary at Halligan-McCabe-DeVries Funeral Home.
Stanley Douglas Skaug was born in Clarkfield, MN on December 2, 1921 to Amy and Emil Skaug. In high school he excelled in academics and athletics and was elected senior class president. He lettered four years in basketball and three years in football. His childhood sweetheart and love of his life, Norma Smith, attended all his games.
Stan attended Dartmouth College from 1939-1943. As captain of the Big Green basketball team, Stan led Dartmouth to two consecutive Final Four NCAA National Championships. As a senior he was selected as an All-American in basketball in 1943. Stan loved to tell the story about playing against George Miken and the Stanford Cardinals when Miken just stood under the net and batted all the opponent's balls out. Basketball's goaltending rule was passed shortly thereafter.
From 1943-1946 Stan served in the Naval Air Force as a navigator. He flew on supply flights using just simple instruments and the stars to navigate the Pacific Ocean in World War II. One stormy night in 1944, Stan was transporting a four-star general to the island of Guam. The general leaned in to Stan and said "You damn well better get me to that island safely, son." They made it safely.
Stan and Norma were married February 3, 1944. After the service Stan was drafted by the NBA's Minnesota Lakers but declined the offer because "they didn't pay enough back then to support a family." So he taught history and Spanish at Shattuck Military Academy in Faribault, MN which left summers open to play semi-professional baseball. He quit when the curveball was introduced because, as he admitted, he just couldn't hit it.
In the mid-50s, Stan worked for the FBI under J. Edgar Hoover's leadership. Assigned to tailing suspected communists, he found the job boring. They moved to Omaha, NE and Stan went to work for Jostens where he stayed until he retired at age 60. Stan and Norma built their retirement cabin on Ten Mile in 1968. They enjoyed golfing, fishing and boating. Stan enjoyed being on the TMLA board and served as its president for three years from 1988-1991.
Stan and Norma had three children, Steve, Mary and Nancy, seven grandchildren and eight great-grandchildren, all of whom love Ten Mile. Stan passed August 10, 2016. He will be missed.
Nancy Seel




Brian Frederic Anderson, born Nov. 7, 1968, the son of Rev. Gary F. and Mary Ann Anderson of Hugo, MN and Ten Mile Lake, died of a heart attack on Monday, August 15, 2016. Brian is survived by his wife, Cheryle of Cold Spring, KY, his parents, his sister, Susan Anderson Horner and her husband, Harry, of Pine City, MN and her five children as well as other loving relatives.
Brian began coming to Ten Mile when he was less than one year old, visiting his grandparents, Martin and Esther Carlson, at their cabin, the first of many trips to Ten Mile. He had a love affair with Ten Mile. His wedding was held at the Anderson cabin on Long Beach Drive four years ago, right on the beach.
Brian is remembered for his many friends, his wonderful sense of humor, and his care for others. After graduating from Minnetonka High School, he attended the University of Minnesota Morris. He went on to become a radio announcer for several years including a year working for a station serving armed forces on Kwajalein Island. Brian worked for more than ten years as a flight attendant for two different airlines, a line of work at which he excelled because of his winning personality. After years of flying, he became a Registered Medical Assistant working in two clinics.
A memorial service was held September 8, at Incarnation Lutheran Church, 4880 Hodgson Road, Shoreview, MN.
Provided by Gary Anderson
George Jerome Benesh, age 90, of Port Edwards, WI passed away at home surrounded by family on Monday, July 11, 2016.
A private service will be held at a later date. Feldner/Ritchay Funeral Home of Nekoosa is assisting the family. Online condolences may be expressed at ritchayfuneralhome.com.
George was born on July 15, 1925 in Walker, MN while his parents, George Sr. and Anna (Brotten) Benesh, were on vacation. George graduated from Edison High School in Minneapolis in 1943 before being drafted into the U.S. Navy the same year. As part of The Pacific Theater, he was involved in 2 battles: The invasion of Okinawa on Easter 1945 and the Liberation of the Philippines. He returned home in May 1946 and on August 3, 1946, George married his high school sweetheart, Irene Brinda (he nicknamed her Jo). August 3, 2016 would have been their 70th wedding anniversary.
George attended The University of Minnesota on the GI Bill. He graduated with a Chemical Engineering degree in 1950.
George worked at Flambeau Paper Division in Park Falls, WI from 1950-1959 as a Maintenance Superintendent. For the next 31 years from 1960 to the time he retired, George was Executive Vice President of Nekoosa Corporation in Nekoosa, WI, working with and enjoying "good people".
George's deep loves were: his family, his cabin on Ten Mile Lake near Hackensack, MN (the site of 3 major birthday parties), sailing, model trains and reading.
George claims "I am a lucky man" because of my beautiful wife Jo, 2 wonderful daughters, Linda (Douglas) Gremban and Amy (David) Rasmussen and proud grandchildren, Jeffrey (Meghan) Gremban, Matthew (Xin) Rasmussen, Michael (Kristin) Gremban, Megan Rasmussen and Nicholas Gremban, plus 6 special great grandchildren, Spencer, Abbie, Hunter, Nora, William and Martin.
George was preceded in death by his parents, sisters Gladys and Frances, and niece Ana Mae.
The family would like to thank his physicians, for their excellent and supportive care: Wadad Ailabouni, Roy Brandell, Pamela Littles and Anna Olson. Also thanks to his sweet Hospice nurses from Ministry Home Care: Sam, Sasha, Stephanie,Barbie and Daisy. And special thanks to his constant companion, Winston.
Dear Dad, You are our North Star, never changing, always there guiding us, grounding us, giving us light and hope. We can always count on you to be there for us, shining bright and beautiful. Love, Linda and Amy.
Information provided by Marty McCleery
Jack K. Lewis, age 82, of Omaha NE passed away June 20, 2016. Survived by wife of 56 years, Kathy Lewis; sons John and Todd, daughter Cindy (Liekhus), sister Judy Bachman, five grandchildren and one great-grandchild.
Lewis attended Stanford University in California and played quarterback there. He graduated from the University of Nebraska Medical Center in 1960. He practiced medicine in Omaha NE with his father Raymond, who retired in 1987. He also worked with Dr Sam Watson who retired at the end of 1999. After Watson retired Lewis' son John, a physician assistant became his partner.
Jack Lewis was as well known for his community service as he was for his medical practice. He served 12 years on the Westside school board and worked with the Omaha Police Foundation, The Omaha Sports Hall of Fame, the Great Plains Amateur Boxing board and many other civic organizations.
He was a longtime Omaha Central High School booster and served as it's sports team doctor for more than 50 years. He was physician to the old Omaha Knights hockey team, at the Ak-Sar-Ben horse track, and at a variety of events at the Civic Auditorium. He was inducted into the Nebraska High School Sports Hall of Fame in 2004 and the Omaha Hall of Fame in 2013.
Omaha Police Chief Todd Schmaderer said he had tremendous respect for Lewis due to his hard work and generous philanthropy while working with the Omaha Police Foundation.
He practiced medicine until a month ago. He recently became ill, and died June 20th of complications from surgery. Lewis' wife Kathy said he had enthusiasm and energy for many activities. "He enjoyed being a doctor most of all," she said.
The Lewis family had a summer cabin on the north shore of Ten Mile Lake.
Information provided by Kay White and Omaha World Herald newspaper
(Information provided by Kay White and the Omaha World-Herald.)
Russell (Buzz) Harold Francen, Jr., 82, passed away peacefully April 18, 2016, at his home in Naples, Fla., surrounded by his family.
Buzz was born May 1, 1933, in Minneapolis, Minn., to Russell and Margaret Francen, the oldest of five children. In his teenage years he worked in the lumber industry unloading boxcars and for local home builders.
After the establishment of Spring Lake Lumber Co., he was hired and soon managed the business, and eventually became owner. He attended the Dale Carnegie School of Public Speaking, Dunwoody, and the Minnesota School of Business.
He married Charlotte Buchholz in 1955. They built a home in Blaine and raised their three children in the same neighborhood in which he grew up. During his senior year in high school and early on in their marriage, he served in the U.S. Naval Reserves for eight years.
In 1965 Buzz and Char built a house on Laddie Lake in Spring Lake Park. After their children left home, they became empty-nesters and moved to a townhouse in Coon Rapids. Buzz was involved with the Spring Lake Park Lions Club and was a member of the Spring Lake Park Rotary Club, serving as president of both.
As he eased out of his working years, in 1973 Buzz and Char purchased land on beautiful Ten Mile Lake, Long Shore Bay, in Hackensack, and built a lake home where he spent many summers. He enjoyed many evenings fishing, pulling his children and grandchildren water skiing and tubing, the many family and friends' picnics, the Fourth of July boat parades, snowmobiling the trails, Thursday night meat raffles, and Sunday night dinners with friends at various restaurants in the Hackensack/Walker area. Upon retirement, he became a resident of Naples, Fla., in 2000.
Buzz was an avid fisherman, hunter and golfer. He was a loving husband, a wonderful father to his three children and a joy to his seven grandchildren and seven great-grandchildren. Throughout his life, he touched many lives. We all have cherished memories of our time with him. He will be greatly missed.
Reprinted from the Walker Pilot
Floyd Albert Borchert, 85, died Tuesday, April 5, 2016, at the VA Extended Care Center in St. Cloud, MN.
A funeral service was held April 11 at Hope Lutheran Church in Walker. Pastor Matthew McMasters officiated. Interment was at the Minnesota State Veterans Cemetery in Little Falls, MN.
Floyd was born Dec. 8, 1930, to Fred and Esther (Gish) Borchert in Federal Dam, MN. He grew up there and attended Federal Dam School, then worked in farming, at a sawmill, and as a guide on Leech Lake. He served in the Korean War and was awarded the Bronze Star and Purple Heart.
After the war, he worked in construction as a carpenter and eventually as owner/operator of Northern Master Builders.
On May 15, 1958, Floyd married Mildred Runyan in Geneva, Ill. They lived their lives together in Federal Dam, Walker and Hackensack, raising a family of three children. Their Hackensack home was on the shore of Long's Bay of Ten Mile Lake. Floyd and Millie were active members of the community and were frequently seen together anywhere there was music.
Floyd had a talent for pickin' and grinnin' guitar and mandolin, and liked to fish, hunt and travel. He enjoyed people and loved to visit at every opportunity. He was a dedicated lifelong member of the Walker American Legion. He will be fondly missed.
Survivors include sons, Melvin (Patti) Borchert, Ronald (Larissa) Borchert; daughter, Dori Foster; "the other oldest son," Robert Winkler; seven grandchildren, Melissa, Greggory, Kimberly, Douglas, Emil, Rani and Lee; three great-grandchildren, Gwendolyn, Abigail and Joshua; two brothers, Fred Borchert and Wesley Borchert; two sisters, Margie Conway and Francis Johnson; several nieces and nephews.
He was preceded in death by his parents, Fred and Esther; wife, Millie; and one sister, Florence.
(Information was obtained from the Walker Pilot-Independent, April 20, 2016.)
Gary Youngdahl, age 68, of Hackensack, died peacefully at his beloved home on Ten Mile Lake surrounded by his family just after sunset on March 28th, 2016.
He was a warrior, patient teacher, expert fisherman, loyal friend to many, devoted husband of 46 years, the best dad that two girls could ask for, and a man who made it easy to know which of life's paths to follow.
Gary is survived by his wife, Nancy; daughters, Lisa (Tim) Rounds, Toni (Paul) Palecek; grandchildren, Isaac, Luke, Lexi, Nolan; mother-in-law, Oney Flakne; brother-in-law, Dale Flakne; nieces and nephews; and Jigs, his loyal dog. A memorial service was held on April 9 at the Evans-Nordby Funeral Home. Brooklyn Center, MN.
(Information provided by Marilyn Hultgren)
Dwight A. Lincoln, 83, of St. Louis Park, went to be with the Lord on Saturday, March 5, 2016. He was preceded in death by parents, Mr. and Mrs. Adelbert Lincoln (Fairmont, MN). Survived by wife of 63 years, Betty; daughters, Ramona Lincoln and DeAnna Baker (Jeff); sons, Timothy (Laura), Michael (Renee), Brad (Denise) and Eric (Jackie); 14 grandchildren; 17 great grandchildren.
(Information from the Minneapolis StarTribune)
Donald Lionel Buck of Edina completed his life on January 27, 2016, passing away peacefully in the company of his family. He was born June 23, 1925, in Minneapolis. His plan was to reach age 90, but when he heard his granddaughter was getting married in October, he wanted to be able to dance with her at her wedding. He lived to accomplish both and so much more in his 90 1/2 years.
His parents were Merle Lionel and Irene Adelaide (Nelson) Buck. He grew up in South Minneapolis, earned his Eagle Scout Award, and served in the Air Force-just missing a deployment with the end of WWII. He graduated from the University of Minnesota in 1949 with a degree in Business. He began his career at First National Bank, working first in Northfield and later in Sioux Falls.
While attending his home church one Sunday he noticed an attractive woman in the choir. One thing led to another and he married that young blonde, Mary Virginia Thorvig, on October 7, 1950.
Family was Don's treasure. He spent every moment he could with his family, enjoying their presence and making them laugh. He often marveled at the wonderful result of that day he saw Mary singing in the choir: four children and their spouses, Steve (Sally, late wife Kathie), Greg (Lisa), David (Jenny), Brenda (Tim). Seven grandchildren, Kimberly (Andy, and their children -Brooklyn and Braden), Chris (Danne); Paul, Madeline (Matthew); Riley, Griffin; Tyler. Don enjoyed bringing the family together around a fire in the fireplace with waffles on the table, both at their Edina home and the beloved family cabin on Ten Mile Lake.
Don also worked at General Mills and later as comptroller at Research, Inc. before starting an engineering company, Data Myte. He consulted at several firms, started RotoCarve, and taught a course on Entrepreneurship at St. Thomas University, before retiring in 1994. Don was an active member of Normandale Lutheran Church in Edina, where he maintained close friendships with the members of their "Small Group," relished singing in the choir, and served as a Stephen minister. Wherever he went, he always had a twinkle in his eye and a warm greeting for every interaction.
Don's favorite word was "bountiful," which he proclaimed after each joyful family gathering to show his appreciation for a life surrounded by dear family and friends. It certainly was a bountiful life.
The family offers special gratitude to Fairview Southdale Hospital, Presbyterian Homes in Bloomington, N.C. Little Hospice. Memorial contributions may be made to: Normandale Lutheran Church in support of the choirs or the Normandale Lutheran Church Foundation.
Contributed by David Buck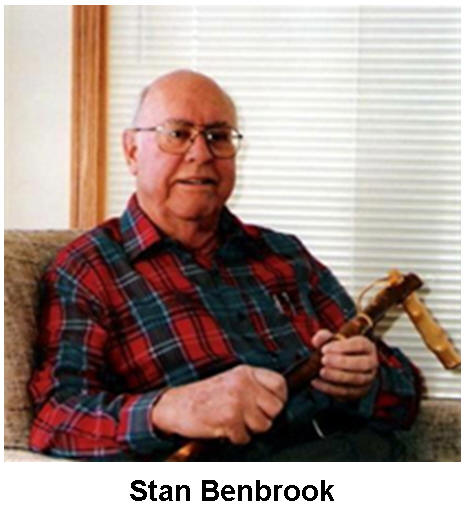 Dr. Stan Benbrook, 96, of Ames, passed away January 20, 2016 at Green Hills Retirement Community in Ames. A memorial service was held in Ames.
Stanley Clayton Benbrook was born February 27, 1919 to Edward Antony and Jessie Clayton (Whittle) Benbrook in Ames, Iowa. He married Alice Jane Stallings on October 3, 1944, his loving wife of 64 years. He graduated Iowa State College with a Doctor of Veterinary Medicine in 1949, and was a member of Tau Kappa Epsilon. He served in the U.S. Navy from 1942 to 1944 during WWII. He then served in the U.S. Army from 1950 to 1971, retiring with the rank of Lt. Col. During his time in the U.S. Army Veterinary Corps, he received an Army Commendation Medal for work on wound care, a Meritorious Service Medal for work in tropical diseases, an Air Force Unit of Commendation for research at Walter Reed, and a Reserve Medal for 30 years service in the Army Reserves. In retirement Stan was active in committees both at Green Hills and in the Ten Mile Lake Association in Minnesota. In later life Stan continued to enjoy the company of friends and family and religiously kept track of his beloved ISU sports teams.
His most enjoyable and lifelong hobby was wood-working. He made unique canes constructed from Minnesota wood that he gave to family and friends. He had an eye for beauty and enjoyed carving intricate geometric patterns into small wooden card or jewelry boxes. Before he lost a vocal chord in surgery, Stan loved to sing. He could often be heard singing a solo in church or belting one out at home just for the joy of it. Stan had a great sense of humor, and was a wonderful story teller, relating colorful events about people he knew and enjoyed all through his life. He spent every summer with family at his beloved Ten Mile Lake.
Above all, Stan loved his country, and was proud to be an Iowan, especially an Iowan from Ames. He strove to uphold the traditional American values that he believed in and cherished.
Stan is survived by his daughter, Susan (Mahmood) Seyala of Silver Spring, Md.; his grandsons, Layth (Suzanne) Seyala and Nazar Seyala; and great-grandsons, Caleb and Aidan. He was preceded in death by his parents; his wife, Jane; and his sister, Kathryn (Benbrook) Lapp.
(Information provided by Susan Seyala)