Remembering our Ten Mile Lake Friends...2014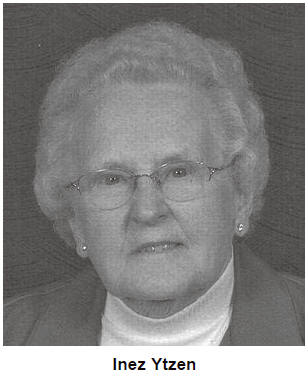 Inez (Hanson) Ytzen, 98, of Maple Plain, formerly of Walker and Hackensack, MN passed away on Wednesday, Oct. 1, 2014. Funeral services were held October 6 at Hope Lutheran Church in Walker with interment at Evergreen Cemetery.
Inez was born September 23, 1916, in Hawick, MN, the daughter of Hans and Petrina Hanson. She was the youngest of 12 children, all of whom grew up on the family farm near Hawick.
Inez married Edward Ytzen March 27, 1937, in Hawick where they farmed. In 1947, they moved to Ten Mile Lake near Hackensack, where they operated Crescent Beach Resort. In 1951, they moved back to the farm near Hawick, where they lived for 10 years, before returning to Ten Mile Lake.
Inez and Edward were long-time members of Hope Lutheran Church in Walker.
Inez was an excellent cook and cooked for Hultgren's Lodge, Roby's Rib and Steak, as well as for her own restaurant business. Her daughters fondly recall homemade bread and caramel rolls every Saturday when they were young, as well as decadent holiday treats such as krumkake, ebelskiver, lefse, rosettes, and fattigman. These treats were enjoyed by grandchildren, church members, and other people in the community, as well!
Other hobbies included sewing, quilting, braiding rugs, playing cards and visiting with family and friends. Family was especially important to her.
Inez will be dearly missed by her two daughters, Emilie Haagenson, and Patricia (Gus) Ziemer; four grandchildren, six great-grandchildren, one great-great grandson, and many nieces and nephews.
Preceding her in death were her parents; husband, Edward Ytzen; one son-in-law, Raymond Haagenson; and 11 brothers and sisters.
(Information from the Walker Pilot-Independent, October 8, 2014.)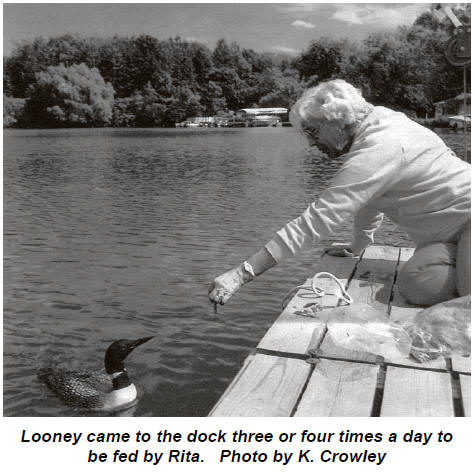 Rita C. Hereid, 87, of Blaine, MN died during the summer. She is survived by her husband of 67 years, Clifton, daughter Linda Wallin, three grandchildren, and nine great-grandchildren.
Rita was active in the Hackensack Ladies Auxiliary along with WELCA at Christ Lutheran Church, Minneapolis, where her funeral service was held.
Rita and Clifton had a home on Long's Bay, where Rita had a unique relationship with a loon she named "Looney." This experience was described in a book titled "Love of Loons," 1987, by Kate Crowley and Mike Link.
According to her story in this book, Rita discovered a loon on land on her shore, but unable to move. She captured it in a net and discovered a mass of monofilament fishing line which had ensnarled the loon's legs and cut into them so as to render them useless. She removed the line and began to feed the loon strips of freshly caught fish.
The story continues: "The loon wasn't kept in a pen, but seemed to sense the safety of the small cove that harbored the Hereid's fishing boat."
Rita tried to get help from the DNR and other organizations with little success, so she became the bird's personal protector. Over time, the loon became a celebrity, so many people around the lake supplied her with fish. When "Looney" saw Rita, even through her picture windows, it would swim to her dock and make pleading signals for food. It would take fish from her hand but not allow her to touch itself.
Gradually the loon's legs healed and "Looney" was able to dive for its own fish. "Near the end of August, the bird began to rise and 'display.'"
"The improvement was a source of pride not only for the Hereids but also for the entire area. As people visited and fed the bird, they became more involved and caring. They might bring food for Looney, or they might take off after a boat that been harassing other loons on the lake."
By September, Looney was able to swim freely, and to rise and fly from the water, It was once a again a free bird.
The authors of the story note that "One lesson that comes from Rita's experience is that an injured bird has a better chance if care can be given in its natural surroundings. A second lesson is that there is a chance that loons can adapt to human presence if we are aware of the limitations that we need to put on our own behavior." They refer to Rita as "The Loon Lady of Ten Mile Lake."
(Information provided by Linda Wallin, Rita's daughter.)
Oren D. Abraham, 89, was born in Mankato, MN on September 4, 1924, to Herbert and Laura (Manthe) Abraham. Oren passed away peacefully in Naples, FL on August 30, 2014.
Oren attended District 20 School outside of Madelia, MN through eighth grade. He graduated from New Ulm High School and continued his education at the Normal School. He enlisted in the army and served in France and Germany in WWII. Oren's ability to speak fluent German enabled him to serve as a translator at the end of the war. He was one of the soldiers who went from house to house announcing to the Germans and the prisoners of war in the concentration camps, "The war is over!"
After the war Oren returned home to finish his education at Mankato Teachers' College. He taught English, Speech, and Drama in Lamars, IA, Trimont, MN, and Benson, MN. He finished his teaching career at Brainerd Community College, retiring in 1992.
Oren enjoyed performing in many summer theater productions and singing in his church choirs. He was a member of the Lutheran Church of the Cross, Nisswa, MN and Cristus Victor Lutheran in Naples, FL. He was a member of the American Legion and the Elks Club.
Oren enjoyed reading, He especially enjoyed his daily paper even until the last days. Other hobbies and interests included collecting antiques, refinishing furniture, fine art and music, woodworking, and traveling. He was member of the Friendship Force while living in Naples. This enabled him to travel, as well as host foreign visitors at his homes in MN and FL. In retirement, Oren lived first on Ruth Lake then West Twin near Pequot Lakes, MN. He spent winters in Florida, where he built a home on Pine Island, and later moved to Naples.
Those who knew Oren could appreciate how much he loved his family, friends, and faith. His kind and caring ways along with his wry wit and warm friendship will be missed.
Oren was preceded in death by his parents and brother Arlo and several cousins. He is survived by brother Lynn (Pat) Abraham of Hackensack, MN; nieces Kim (Bob) Moe of Bonita Springs, FL and Hackensack, Karla (Craig) Seibert of Bonita Springs, FL and Hackensack, Lisa (Chuck) Doucet of Avon, MN, and Tracy Abraham of Naples, FL.
(Information taken from the New Ulm Journal, September 4, 2014.)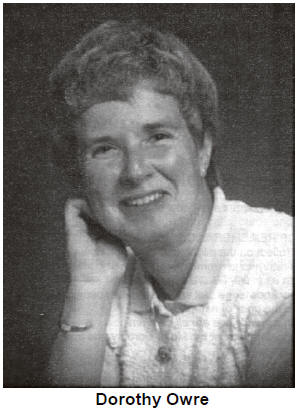 Dorothy Anne Owre, 75, of Hackensack, MN died at her home on Tuesday, August 26, 2014.
Dorothy was born on November 7, 1938, in Minneapolis, MN to Paul and Dorothy (Larsen) Loudon. She is survived by her husband, Roderick; children David (Andy), Deb, and Rod; and three grandchildren. She is also survived by her sisters Mary, Joan, and Brice and brother Bob.
Dorothy graduated from Northrup Collegiate School in Minneapolis and Mills College in Oakland, CA. She loved all sports and was an avid tennis and golf player.
Her high school yearbook said of her, "She belongs to that enviable group of happy people in the world who are fairly exploding and vivacious and enthusiastic. Chemistry is one her favorite subjects. Dorth is an avid tennis fan and she is tops in matches throughout Minnesota. Her athletic and organizational ability gained for Dorothy the chairmanship of the Athletics Committee, a position which she carried out with ease and enthusiasm. Dorothy, our class mascot and friend, is a shining example of enthusiasm and industry."
A memorial service was held September 21, 2014 at Union Congregational Church in Hackensack.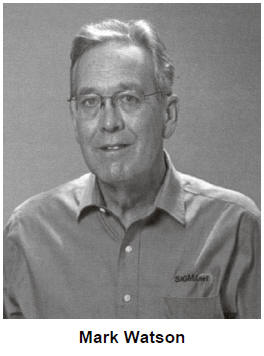 Mark Allen Watson, 58, of Fontana, Calif., passed away Tuesday, Aug. 5, 2014, at his home. A memorial service for Mark was held September 20 at Union Congregational Church in Hackensack with Pastor Michael Small officiating. Inurnment was at the Hillcrest Cemetery in Hackensack.
Mark was born March 1, 1956, in St. Paul, the son of Forrest and Jane Watson. He grew up in White Bear Lake and was in the first graduating class from the new WBL Mariner High School in 1974.
Following graduation, Mark worked as the travel/equipment manager for the Chameleons. It was with this band that he became friends with drummer Charlie Adams and Yanni who later went on to form Yanni's Orchestra.
After getting his degree from Coleman College, Mark worked for KayPro in San Diego as a computer marketer. For the past 14 years Mark worked with Sigmanet in Ontario, CA.
Mark loved hiking, camping, and water skiing in northern Minnesota at his parents' cabin on Ten Mile Lake near Hackensack. He is survived by his first wife, Jane Watson of Aurora, Colo., and their son Eric from Sealy, Texas; his current wife, Tanya, of Fontana; parents Forrest and Jane Watson of Walker; brother Bruce of Del Mar, Calif.; sister Linda of Placentia, CA; and three nieces and one nephew, all of California.
(Information from the Walker Pilot Independent, September 10, 2014.)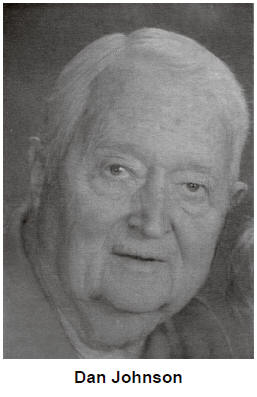 Dan G. Johnson was born July 25, 1937 in Minneapolis, MN. He died on July 24, 2014 in Edina, MN at age 76. A funeral service was held for him at Calvary Lutheran Church in Edina on July 30, 2014.
Dan was raised in Edina and was both baptized and confirmed at Calvary Lutheran Church. He owned a successful plumbing business for approximately forty-five years in Edina.
Dan was an avid fisherman, hunter, and gardener. He spent his summers at his beloved lake place on Ten Mile Lake where he taught his nieces and nephews how to fish; hunted with his buddy Bill; maintained his many gardens, and entertained friends with his stories over coffee and cookies. Dan loved to host the men's coffee and was proud to show off his gardens as part of the Home and Garden Tour in 2009.
He enjoyed spending his winters in the Florida Keys and more recently, in Las Vegas. Dan and his wife Betty enjoyed traveling and entertaining friends both at their home in Edina and their lake place on Ten Mile. Dan was a fantastic cook and a master on the grill.
Dan was preceded in death by his parents Oscar and Greta Johnson, brother Phil Johnson, and sister Phyllis Berg. He is survived by his loving witfe Betty, sister- and brother-in-law Donna and Ed Loechler, and several nieces and nephews.
(Information provided by Betty Johnson.)
Juliet Alvera Olson was born August 18, 1922 to Alfred Theodore Olson and Jennie Otilda Bradley on the family farm in Carrollton Township, rural Lanesboro, FillmoreCounty, Minnesota. She was baptized at the Bethlehem Lutheran Church parsonage in Lanesboro and confirmed at Union Prairie Lutheran Church, rural Lanesboro, by the Rev. P.J. Nestande.
Juliet died on July 9, 2014 at Mayo Clinic Hospital, Saint Mary's Campus in Rochester, MN at the age of 91.
Juliet attended Clear Grit country school (near what is now the Old Barn Resort) through the 8th grade, and Lanesboro High School through tenth grade. On August 27, 1941 she married Carmen Ray Campbell at the church parsonage in Lanesboro, the Rev. Nestande again presiding. She worked as a Housekeeping Supervisor at Mounds Park Hospital in St. Paul, MN until her retirement.
Juliet was member of Bethlehem Lutheran Church in Lanesboro and the Women of the ELCA. She enjoyed crocheting and embroidering. She always looked forward to spending time with her children, grandchildren, and great-grandchildren. She and her husband worked tirelessly saving their resources so they could travel. They enjoyed many trips with their children and shared many special moments at their cabin on Ten Mile Lake and in their condo in Laguna Beach, CA.
Juliet's family includes her two sons David (Barbara) Campbell of Lanesboro, MN and Gary (Nancy) Campbell of Oronoco, MN; four grandchildren; seven great-grandchildren; and one sister, Larraine (Manley) Lange of Harmony, MN. She was preceded in death by her husband of 69 years, Carmen.
(Information provided by David and Barbara Campbell.)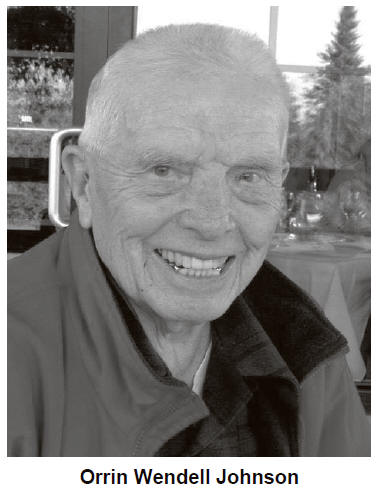 Orrin Wendell Johnson, 93, of Harlingen, Texas died on May 16, 2014. Orrin was born in Minneapolis Nov. 7, 1920, the son of Elmer G. Johnson and Lydia Carlson Johnson. They and their neighbors moved from Lake Beltaine to Ten Mile's Batcheller Bay in the mid 1930s. It was the era of kerosene lamps, scrub boards for washing, a wooden fishing boat and an outhouse Orrin and his brother built which still stands today!
Orrin's family moved to Texas in 1933 but continued to spend every summer at the lake. He and his older brother Drexel loved fishing, camping and canoeing. Orrin attended the University of Texas at Austin and graduated cum laude.
Orrin joined the Marine Corps when World War II broke out. He served with the Third Marines at Guam, Guadalcanal, Bouganville, and Iwo Jima and was decorated with the Purple Heart. A captain when the war finished, he became a major in the Marine Corps reserves before leaving the service.
After the war, he went to the University of Texas for Law School where he was elected Student Body President of the Law School. He practiced law in Harlingen his entire life, founding the law firm of Johnson and Davis and receiving many awards during his long career. He served as Chairman of the Fellows and as a Trustee of the Texas Bar Foundation. He also was honored as a Fellow of the American Bar Foundation. He was elected President of the Texas State Bar in 1982.
He was a great believer in public service, and founded the Good Government League, a body designed to monitor and eliminate corruption in county government. Because of his work, Common Cause honored him as one of six recipients across the nation for their Public Service Award. He also served his fellow man constantly in other quiet ways with financial contributions, expertise, energy and time.
In 1950 he met beautiful Patsy Coons, to whom he was married for 63 years. They married in 1951 and four children soon followed. He delighted in his children and later in his grandchildren and his great-grandchildren. His children and grandchildren were blessed to spend their summers at Ten Mile, fishing with the man they all eventually called their "FarFar". He patiently instructed each child and grandchild on how to bait a hook, take a fish off the line, and how to clean it. He regaled them all with wonderful stories of Ten Mile long ago. There were fun sing-songs (sometimes in Swedish), pancake breakfasts, Finnish baths and fish frys with all the longtime neighbors. He had a great concern for the ecology of this lake that he loved and for the care of the trees that surrounded him. He was happiest with a fishing pole in his hands, surrounded by people he loved.
He was at Ten Mile every summer except during World War II. He spent last summer at Ten Mile and was looking forward to being at the lake this year when God called him away. He is survived by his wife, Patsy, his children, Forrest Johnson, Wendell and Alice Johnson, Carol and Ed Proctor and Michael and Laura Urbis; by eight grandchildren and two great-grand-children.
(Information was provided by Orrin's daughter Carol Proctor.)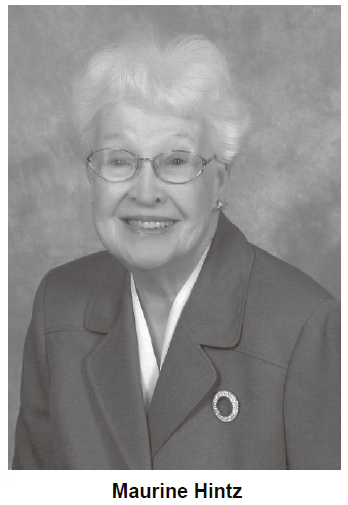 Maurine Hintz, age 95, passed away peacefully on May 15th, 2014 surrounded by her loving family. Maurine was preceded in death by her devoted husband Lee Hintz and dear siblings, sister Vivian Stephens and brother Donald Nordlund. She is survived by her children, daughter Jan Simpson (Don Simpson), son Lee Hintz, one granddaughter, three grandsons, and one great-granddaughter. Her family was her most beloved treasure.
Growing up, Maurine was raised and confirmed in the Augustana Lutheran Church. After her marriage, she joined the Presbyterian Church and has been a Presbyterian for the rest of her life. Maurine moved to Maryville from Minneapolis, Minnesota to live close to her daughter in 2001. Since moving to Tennessee she has been a member of New Providence Presbyterian Church in Maryville.
She was born in Stromsburg, Nebraska on April 10th, 1919. Her parents were Edith and Elmer C. Nordlund. All four of her grandparents came as pioneers from Sweden to Nebraska. She was a summa cum laude graduate of Midland Lutheran College in Fremont, Nebraska. She taught high school vocal music from 1941-44.
Maurine and her husband Lee married in 1944. They had twelve homes in eight different states as Lee advanced in his 38-year career with the JC Penney Company. Throughout those years Maurine provided a stable and supportive environment for their family.
Maurine's parents built the Nordlund cottage on the North Shore of Ten Mile Lake in 1947. She spent her summer vacations there with her loved ones every year since. The cottage and lake continued to be an extremely important part of her life and in the lives of her family. She will be sorely missed this summer. Her family will gather at the lake in July to celebrate her life.
At all stages of her life Maurine has been an avid supporter of symphony and choral groups and has sung in choirs wherever she has lived. She has provided the gift of music to her Shannondale community in Maryville by her special talent as a pianist/accompanist. She played during chapel services both in the retirement building and in the assisted living unit. Most days she serenaded the residents in her building playing the grand piano in the communal living room area. She loved to travel, visiting 12 different countries in her lifetime including Saudi Arabia and Egypt in her 70's.
Maurine has been a committed member of P.E.O. International Sisterhood, a philanthropic educational organization supporting women. She has been an active member for nearly 50 years in Montana, Minnesota and Tennessee chapters.
A memorial service was held at New Providence Presbyterian Church in Maryville on May 24th. Maurine will be buried with her husband Lee at a private family service at Lakewood Cemetery in Minneapolis, Minnesota at a later date.
(Information provided by Maurine's daughter Jan Simpson.)
Clifford Dale Gunnare, 71, of Sun City West, Ariz., passed away Thursday, May 8, 2014. Funeral services were held May 12 at Emmanuel Lutheran Church in Beresford, S.D.
Cliff was born in Hawarden, Iowa, April 15, 1943, to Bert and Erna Gunnare. He graduated from Alcester High School in 1961 and attended Nettleton Business College in Sioux Falls, S.D. He married Gloria Merriman Feb. 29, 1964. He worked for J.C. Penney Company for five years before moving to Beresford and joining the Merriman Drilling Company. In 1981 he started his own consulting business, C&G Consulting.
Cliff served as executive secretary of the North and South Dakota Well Drilling Association. He was active in church, Toastmasters, golf board, and teaching Sunday school. He was a member of the Benevolent and Protective Order of Elks. He and his wife enjoyed Friday nights there with dinner and dancing with their friends.
In 1988, Cliff and Gloria moved to Scottsdale. On Dec. 17, 1989, he had his first heart transplant. On January 18, 1995, he had a second heart transplant. He published a book entitled "Journey to Third Heart" to help others facing life challenges and those waiting for transplants. Despite his health problems, Cliff always had a positive attitude, which got him through many challenges.
Cliff enjoyed spending summers at their cabin on Ten Mile Lake. He enjoyed fishing with grandchildren and friends and cleaning thousands of fish for fish frys. He also enjoyed golfing, woodworking, remodeling, and playing card games with family and friends.
He is survived by his wife, Gloria, of 50 years; and their three children, Mike (Caren; Nick and Jessica) of Highlands Ranch, Colo., Chris (Denise; Chrystina, Caitlyn, Dylan) of Urbandale, Iowa, and Rob (Tracee; Makayla, Brooklyn, Kaden, Kennedy) of Shakopee, Minn.; brothers Wesley (Elayne), Ronald (Kathie) and James (Mary); and many in-laws, nieces, nephews, family and friends, too numerous to list but not forgotten. He was preceded in death by his parents and brother-inlaw, Geoffrey Merriman.
(Information from the Walker Pilot-Independent, May 14, 2014.)
Cliff Brunzell, 92, died Friday, April 4, 2014. Cliff was a violinist and a Minneapolis music institution who organized the Golden Strings ensemble ─ eight violinists, two grand pianists, and a bassist which played more than 15,000 performances at the Flame Room of the Radisson Hotel.
Born in Minneapolis, Brunzell started violin lessons at 8 and played on the radio at 11. After high school he got a job playing in a trio at the Nicollet Hotel. He entered the Army in 1943 and later earned a bachelor of music degree in violin at MacPhail College of Music, (where he met his wife Jean, a pianist) and later a master's degree in both violin and music education. In 1948 he joined the Minneapolis Symphony under Antal Dorati, but left seven years later to run the Hopkins High School Orchestra.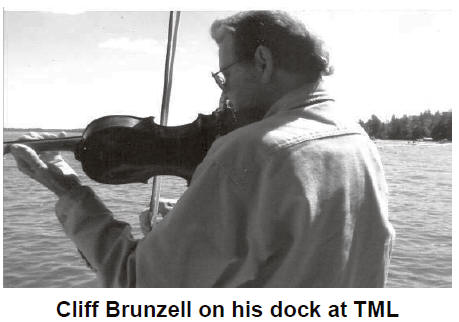 In 1963, hotel magnate Curt Carlson asked Brunzell to put together a music ensemble to entertain at the Flame Room. The group became an institution, releasing 10 albums of light classics and pop standards. They played for more than 1 million people, including Nat King Cole and King Olav of Norway. While the Golden Strings were playing three sets a night for six days a week, Brunzell was also teaching at Hopkins.
He also loved going Up North to the family cabin on Ten Mile Lake, where, during the July 4th boat parades, he would stand on his dock and play his violin, amplified, to salute the boats passing by. Even though the Golden Strings ended a nearly 19-year run at the Flame Room in 1983, when the Radisson was remodeled, Brunzell never stopped performing. He did six or seven Christmas gigs just last year, and played a final show in January.
Cliff is survived by his daughters Barbara, of St. Paul, and Juliann, of Minneapolis, four grandchildren, and one great-grandchild. A service was held on Friday, April 11 at Lutheran Church of the Good Shepherd in Minneapolis.
(Information was taken from the Minneapolis Star Tribune, Tuesday, April 8, 2014.)
Don Harris, 78, of Hackensack, MN, passed away March 7, 2014 after a short battle with cancer. He was born in Ames, IA and attended Iowa State University and the State University of Iowa where he was a member of Sigma Alpha Epsilon. He married his high school sweetheart, Ann Lee in 1957. He had a long career with 3M in sales and marketing in the Traffic Control Materials Division.
Don made his first trip to Ten Mile Lake in 1949 to stay at the cabin of a friend from Ames. Don, Ann and their daughters traveled to Ten Mile every summer to Ann's family's cabin. In 1995 Don and Ann became owners of the cabin on Fernhurst Cove. He enjoyed his retirement, living on Ten Mile Lake and spending the winter months in Florida. He was active in the Hackensack Lions, American Legion Post 202, Ten Mile Lake Association, Hope Lutheran Church and Tianna Country Club. He organized and led a course for kids from 12 years of age and older in Water Craft Safety. He loved playing golf and working on his many projects in his garage workshop.
He is survived by his wife of 56 years, Ann; daughters, Lee (Mark) Sand, Beth (Butch) Greeninger, Amy (Jason) Affeldt; grandchildren, Matt Sand, Scott (Megan) Sand, Greg Sand, TJ Greeninger, Pete Greeninger, Kelly Greeninger, Jeff Greeninger, Sean Wright, Patrick Wright and Raven Affeldt; and brother, Phil (Kathy) Harris.
A memorial service was held on Sunday, March 16 at 2:00 at Immanual Lutheran Church in Eden Prairie MN. Because he so enjoyed serving at the monthly pancake breakfasts served by the Lions, a Celebration of Life Pancake Breakfast will be held on May 10 at the Hackensack Community Building from 10:00 to 12:00. Memorials preferred to NC Little Hospice, 7019 Lynmar Lane, Edina, MN, Hope Lutheran Church, PO Box 506, Walker, MN 56484 or donor's choice.
(Information provided by Lee Sand.)
Dr. David P. Krueger died in his sleep from bone cancer Saturday, Feb. 15, 2014, at 11:45 p.m. at his home with his family near. Funeral services were held at Hope Lutheran Church in Walker on March 1. Interment followed in Evergreen Cemetery.
Dave was born March 14, 1929, to Mollie (Aronson) and Paul Krueger. They lived on Cleveland Boulevard and later by Lake May in Walker, MN. He married Geraldine (Jerry) Paulson at Hope Lutheran on Sept. 22, 1951. Jerry passed away March 18, 2011.
He loved the outdoors and fishing. He was always in the sun which led to battles with skin cancer later in life. He was a Walker High School team captain in football and basketball, graduating in 1947. His many hobbies included collecting antiques, playing Canasta card games, and doing carpentry projects. He attended national conventions for old collectable dolls and children's dishes with his wife, and they enjoyed doll clubs in Bemidji and Fargo. He was an excellent photographer with traveling slide shows for events.
Hunting on the family farm of his grandpa Louis and grandma Mattie was a lifetime tradition. For 30 years he tended to his rose garden and was on garden club tours.
He was a Boy Scout leader and his two sons became Eagle Scouts. Dave was Rotary Club president in the 1960's and did not miss a meeting for decades. He dug for old bottles and history treasures with his boys and friends. He was president of the Park Rapids Historical Society and helped save the court house to become a museum. He was on the library board, sang in the Calvary Lutheran Church choir, attended area Norwegian clubs and played golf.
In 1950 to 1951 he fought on the front lines in the Korean War. He was in the Second Infantry Division at the border between Korea and China. His unit was the first of two units overrun by the Chinese when they entered the war.
As a second lieutenant leader of Rifle Platoon K, he led out his survivors through enemy positions and friendly artillery fire. He was awarded the Silver Star and Purple Heart. He was then stationed out of Ft. Riley, KS.
He worked with his father doing taxidermy while going to college in Bemidji and then attended the University of Minnesota Dental School. He lived withhis family for four years in the University of Minnesota St. Paul Campus "Tin" Village. Upon graduating in 1959 he moved to Park Rapids and practiced dentistry.
After retiring in 1997, he designed and built the family home where his father had built a cabin in 1953 on Ten Mile Lake. He enjoyed the Ten Mile Lake Men's coffee meetings. A highlight for many summers was the Whoop-De-Doo event, where friends and relatives enjoyed camping, water sports, and singing around the campfire.
In 1968-69 he hosted AFS exchange student Line (Leen) from Algeria who was French. Trips to Europe, mostly Norway and France, were favorite goals reached.
Dave was always whistling, even while he worked. When in the same room he harmonized with Jerry's singing.
He is remembered by his daughter Sandi and her son Justin of Walker, and sons David (Scott) of Eureka, CA, and Paul (Skip) of Brentwood, CA.
(Information taken from the Walker, MN Pilot Independent, February 26, 2014.)
Jane McNair Brandt of Edina MN passed away peacefully on February 3, 2014 in her home surrounded by her loving family. She was 95 years old.
Jane was born in St. Paul MN where she attended Central High School and the University of Minnesota. One summer at Ten Mile Lake, when Jane and her girlfriends were renting Miss Padget's cabin on Fernhurst beach [Note: this cabin is now the site of the Coxes' house] she met her future husband, L. Chris Brandt. They spent their married years in Kansas City KS before returning to St. Paul in 1976.
The couple built a cabin on Angel Island in 1951, where their six children played with their Brandt cousins on Janie's beach, summer after summer. Jane continued to have 75 wonderful summers at Ten Mile Lake, the last one in 2013 just before she died.
Jane was preceded in death by her parents Harvey and Gale McNair, brother Harvey Jr. (Helga) and former husband Lyman Christian Brandt and his parents George and Gertrude Brandt. She is survived by children Gale Brandt Hallberg (John) of Arvada CO, Mary Layton of Walker MN, J. Christ Brandt (Rita) of St. Paul MN, Jan Brandt of Richfield MN, Marit Brandt Piper of Sun City AZ, Carrie Brandt Wikman of Edina MN,; and beloved grandchildren Sally Brandt Wangensteen (David), Christian Brandt (Natalie), Jane Brandt (Jason Lane) Caroline Wikman, and Charlie Wikman.
(Information provided by Gale (Lolly) Brandt Hallberg.)
February 22, 1918 - January 3, 2014
Raymond Black passed away peacefully at the Huger Mercy Living Center in Phoenix with several members of his family by his side. A summer resident on Ten Mile Lake for 36 years, Ray loved his family, friends, and life! He was admired for his intelligence, compassion for and service to others, generosity, sense of humor, respect for other cultures, and zest for life.
Ray was born and raised in Richland Center, Wisconsin. During high school he met Barbara Brewer who later became his wife and was the love of his life. In 1941, he graduated in Economics from the University of Wisconsin. After serving in the U.S. Navy Supply Corps in San Diego and the South Pacific, Ray graduated from Yale Law School. Following law school, he practiced law with the Gray Plant Mooty Law Firm in Minneapolis. Later, he helped found and served as Executive Director of the Citizens League in Minneapolis, a nonpartisan organization devoted to improving city government. In 1958, Ray joined a long-time friend, Dick Gray, and became Vice President and eventually President of Zero-Max Industries, a company that manufactures precision motion control components. He facilitated a world partnership between Zero-Max Industries and the Miki Pulley Company of Japan.
During his career, Ray also held leadership positions in the Minneapolis Rotary Club, Big Brothers Big Sisters International (where he had two little brothers for many years), Metropolitan Parks Foundation, Freshwater Biological Institute, Abbott/Northwestern Hospital, Fort Snelling Park Association, Minneapolis area Red Cross, and churches he attended.
Ray's unselfish heart and unshakable faith and convictions will be missed by all who knew and loved him. His legacy remains alive in the family he raised, the friends he made, and the communities he served.
Survivors include two sisters, Ruth Fowell of Wisconsin and Beth Braden of Indiana. He is also survived by his son, Bill Black of Arizona, and his daughter,Tory (Black) Courtney of California, four grandchildren, and six great-grandchildren.
A celebration of Ray's life will be held at 2:00 pm on July 27, 2014 at the Union Congregational Church. In lieu of flowers, the family suggests that contributions be made to Union Congregational Church, Deep Portage Learning Center, Ten Mile Lake Association, American Red Cross, or a charity of your choice.
(Information provided by Tory Courtney.)
Lucille (Lucy) Ritter Crom was born February 6, 1930 in Newton, Iowa, the daughter of Roy A. and Lettie Inez (Rhordanz) Ritter. She spent her early years on the family farm near Reasnor where she attended a one-room country school and was significantly influenced by her involvement in 4-H.
As a Newton High School student she wrote for the school newspaper, participated in the marching band and was elected to a national scholastic society. At Iowa State University she majored in child development, was active in numerous campus organizations and a member and vice president of Sigma Kappa Sorority.
On June 9, 1950, she married Robert L. (Bob) Crom and moved with him to Mason City, Iowa. There she did volunteer work with the local YWCA and occasionally joined Bob in his broadcasts on radio station KGLO featuring agricultural and homemaking news.
While living in Alexandria, Virginia she worked in Washington, DC, for an insurance adjusters firm. In Fargo, North Dakota, she was a founding member of Faith Methodist Church and active in the North Dakota State University Faculty Wives Club. At Michigan State University she was a staff member at the Center for English as a Second Language. During the family's years in Ames, Iowa, she worked for 20 years in the Office of Admissions and Records at Iowa State where co-workers described her as "always so kind and thoughtful."
Upon her husband's retirement as Director of Extension and Outreach at the National Association of State Universities and Land-Grant Colleges, in 1993, they moved from Washington, DC, to Ten Mile Lake near Hackensack, Minnesota. There she became a deacon at Union Congregational Church in Hackensack, was active in PEO, and served on the Board of the Walker Area Food Shelf.
Lucy loved animals, flowers and the beauty of nature. Above all she found satisfaction in the love, cohesiveness and support of her family during times of illnessDa, trauma and tragedy.
She was preceded in death by a son, Richard (Rick) Crom; brother, Howard Ritter; sister, Dorothy Horman; and her parents. She is survived by her husband Robert and three children--Penny Crom (Chris Mroz) of Grand Junction, CO; Linda (William) Kearney of Winfield, IL; and Randall Crom (Julie) of Washington, DC; five grandchildren--Alisa, Scott and Nick Kearney; Hilary and Max Mroz; and one great grandchild, Ryan Scott Kearney.
Services will be held at Union Congregational Church in Hackensack, Minnesota on Monday, July 28th with visitation at 10 a.m. and memorial service at 11. Burial will be in Ames (Iowa) Municipal Cemetery at a date not yet determined. In lieu of flowers her family suggests memorials be directed to the PEO Education Loan Fund at the PEO Executive Office, 3700 Grand Ave., Des Moines, IA 50312; or to the Iowa 4-H Foundation, designated for the Robert and Lucy Ritter Crom 4-H Volunteer Endowment Fund, at the Extension 4-H Youth Bldg., Iowa State University, Ames, IA 50011-3630.
(Information provided by Robert Crom.)