Remembering our Ten Mile Lake Friends...2013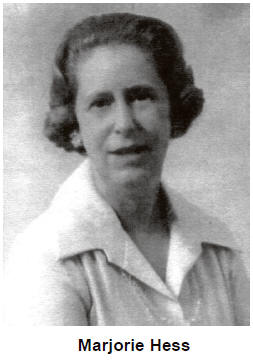 Marjorie Ann Hess, daughter of Charles W. and Bertha (Pingrey) Thomas, was born May 26, 1923 near Coon Rapids, Carroll County, IA. She lived on the farm with her family until her father injured his arm in a farm accident. After returning from the hospital, Charlie and friend Roswell Garst started Garst & Thomas Seed Corn Company, and the family moved into town. Marjorie graduated Coon Rapids High School.
On May 15, 1949 Marjorie was united in marriage with Harris Hess in an outdoor wedding at the home of her parents. The Hesses lived in Bagley for a short time before moving back to Coon Rapids. Marjorie and Harris were parents of two sons, both of whom died as young men, Charles in 1974 and Lynk in 1998.
Marjorie was very active in her community, chairing the Coon Rapids Red Cross Volunteers for many years, starting in 1945. Because of her untiring work, the group was honored by Governor Branstad in May of 1996. Marjorie was also an active member of the American Legion Auxiliary. In 1999, she was selected for the Governor's Volunteer Award after being nominated by the Elderbridge Area Agency on Aging and RSVP. She was very proud to have been a partner in the original Garst & Thomas Seed Corn Company. Marjorie, her parents, and three sisters built and furnished the Thomas Rest Haven and gifted it debtfree to the town of Coon Rapids. Later Marjorie and her husband also made significant gifts for the Park View Assisted Living and American Legion community buildings. In addition to the generous gifts to the community, she also gifted individuals in the community.
Marjorie and Harris enjoyed many trips to their cabin on Ten Mile Lake, MN and winter trips to ther home on Lake Chapala near Ajijic, Mexico. She was an avid antique collector and enjoyed collecting tumblers.
In later years Marjorie suffered a number of health problems. She was able to remain in her home with the loving care of her husband and many helpers over the years. She died at home on Thanksgiving Day, November 28, 2013, at the age of 90 years.
Preceding her in death were her parents, two sons, parents-in-law, and three sisters. She is survived by her husband Harris Hess of Coon Rapids, sister-in-law Marian Hess of Ocean City, NJ, and nieces, nephews, and friends.
(Information provided by Harris Hess.)
Raymond Stephen Raetz died on November 22, 2013, at the age of 87. Ray was born April 8, 1926 to Bartholomew and Christine (Illigen) Raetz in Hastings, MN. He served in the U.S. Air Force 6th Bomb Group, 24th Squadron as a central fire gunner on a B-29 air crew stationed on Tinian Island during the time of WWII from 1943 to 1946. Ray married Joan M. Rougier on June 23, 1951 in Osseo, Minnesota. He conducted his studies at St. John's University where he attained his undergraduate degree and the University of Minnesota where he achieved a master's degree in Business Administration. Ray worked as an accountant, controller and treasurer for General Mills, Control Data, and Holes Webway before his retirement. He was a member of the U.S. Air Force 6th Bomb Group, the Ten Mile Lake Association, and Sacred Heart Catholic Church in Hackensack.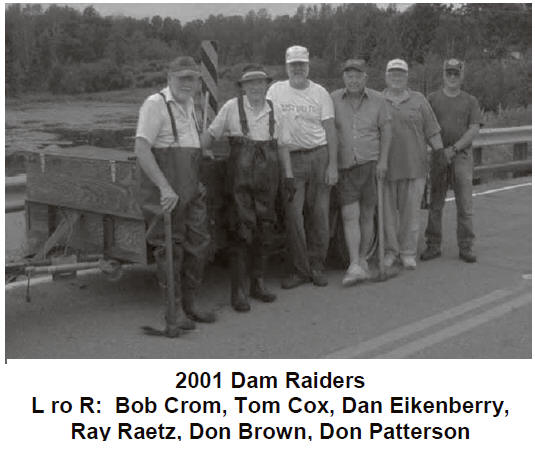 Ray loved spending time outdoors, especially at his home on Ten Mile Lake. Ray and Joan joined the "Ten Mile Lake Family" about 33 years ago when they purchased their land on Crescent Beach. Ray was active in the Ten Mile Lake Association, testing and preserving the water quality of the lake. He also was one of the association's "Dam Raiders" trying to rid the Boy River of its beaver dam so as to lower the then extraordinarily high water level of the lake. Ray faithfully participated in the Men's Coffee on Tuesday mornings during the summer.
He was known as quite the handyman as was shown through his woodworking. He was also known as somewhat of a rock hound where he would search for and polish precious stones found in the hills and mountains of Arizona. What Ray loved most in life though was the time he got to spend with his family and at his home on Ten Mile Lake.
Ray is survived by his wife Joan Raetz, Hackensack; his children Paul (Lucy) Raetz, St. Cloud; Mary (Randy) Mattheisen, St. Cloud; Stephen (NancyJo) Raetz, Sartell; five grandchildren and one great-granddaughter. He was preceded in death by his parents Christine and Bartholomew Raetz, and his sister Mary Catherine Dess.
(Information provided by Ray's daughter, Mary Matteisenn.)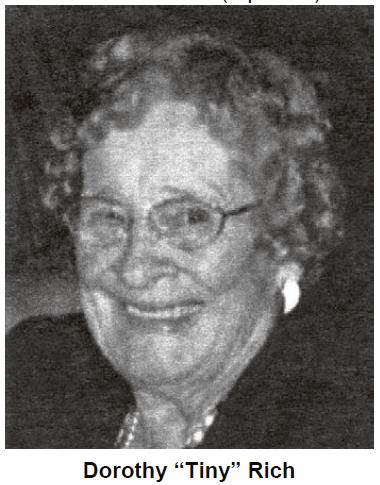 Dorothy "Tiny" Rich, 86, passed away Monday, October 14, 2013 at St. Joseph's Area Health Services in Park Rapids. She was born July 16, 1927 to Oscar and Mabel (Opheim) Bostrom. She graduated from High School in Hackensack, MN and then attended business college in Minneapolis. Dorothy married and continued living in the Twin Cities area, working and raising her family. In 1969 she moved north and worked for the Hubbad County Home Care for many years.
Dorothy was past president of the Akeley VFW Auxiliary, and also a member of the Union Congregational Church in Hackensack and the Akeley United Methodist Church. She enjoyed gardening, sewing, canning, cooking, baking, and going out to eat. She loved to dance. She was a faithful letter writer, enjoyed visiting and being in the company of others, and made many special memories during her travels. Family was most important to her, especially her grandchildren. Her presence will be missed.
Dorothy is survived by her companion, Burton Woock; children Patricia (Ernie) Opheim, Virginia Spain (James Johnson), Larry (Karen) Rich, Charlie (Sandi) Rich, and Jon (Karen) Rich; ten grandchildren, and numerous great grandchildren and great great grandchildren, nieces and nephews. She was preceded in death by her parents, daughter Linda, grandson Lawrence, and brothers Willard, Edwin, Wallace, Gordon, and John.
(Information provided by Union Congregational Church.)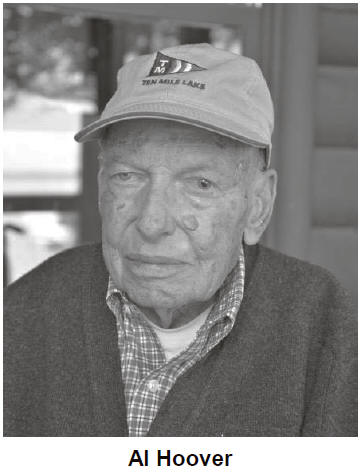 Harry Allen "Al" Hoover died September 23, 2013, Lincolnshire, IL.
He was born August 16, 1932 in Franklin, Pennsylvania to Henry A. Hoover and Elizabeth S. Hoover. He lived in Franklin until he was 15 and moved to Cedar Rapids, IA. He graduated in 1950 from Roosevelt High School in Cedar Rapids and went to Iowa State University on an NROTC Scholarship. He graduated in 1955 and went to Naval Air Flight School in Pensacola, FL. After 13 months, he received his wings in 1956 and was assigned to a squadron in Jacksonville, FL. He spent 4 years there, and while in Jacksonville he married Katherine Jensen of Audubon, IA on July 12, 1958 in Highland Park, IL.
He was selected for Naval Postgraduate School in Monterey, CA and moved there in 1960 with a 2-month-old daughter. In 1963, he received his master's degree and a second daughter and was transferred to Norfolk, VA, Jacksonville, FL and finally Brunswick, ME. After a squadron tour, he went to an air wing in Brunswick. In 1968, he went to a replacement squadron in Jacksonville, FL as an instructor pilot. In late 1968, he was transferred to the Joint Chiefs of Staff in Washington, D.C.
He left the Joint Chiefs in 1970 and was transferred to the command of a squadron in Jacksonville, FL. With this squadron he was deployed to Iceland, Spain, and Italy with many stops in between. He went to an air wing there and finally transferred to the Secretary of the Air Force as an exchange officer. After 3 years with the Air Force, he was transferred back to the Navy with the Chief of Naval Operations and headed the Navy Space Surveillance System.
In 1979, he retired from the Navy and returned to Iowa where he headed the Iowa Division of Aeronautics and the Division of Waterways for 6 year and then his own business – Civil Aviation Consultants. In 1988, he retired from that and the couple moved to Ten Mile Lake near Hackensack, MN. He was involved with the Ten Mile Lake Association where he was Treasurer, President and Financial Chairman. He also taught income taxes for the IRS in Bemidji, Walker and Hackensack. He served on the Cass County Budget Committee and was Chairman of the Cass County Civil Service Commission. He was Treasurer and Chairman of Facilities for the Union Congregational Church and spent much time keeping the Church in working order. He enjoyed many years fishing and boating and managed to spend a month in Florida each winter.
He is survived by his wife Katherine and two daughters Beth (Paul) Nielsen and Sarah (David) Metzger and four grandchildren, Phillip, Scott, Claudia and Eric. He was preceded in death by his parents and sister.
Memorials may be sent to Iowa State University Foundation NROTC Alumni Scholarship, 2505 University Blvd, Ames, IA 50010 or Union Congregational Church, PO Box 10, Hackensack, MN 56452.
(Information provided by Katy Hoover.)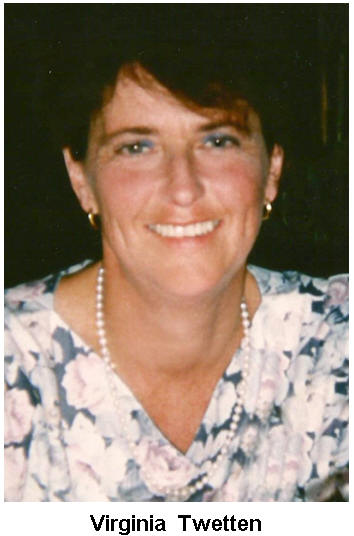 Virginia "Ginny" Marie (Moore) Twetten, beloved wife, mother, grandmother and sister, passed away peacefully Wednesday, August 14, 2013, in Mesa AZ, from respiratory failure. She was 68 years old.
Services for Virginia were held August 20 at Trinity Lutheran Church in Princeton, MN. Honorary pallbearers were friends Jane Hansen, Linda Odegard, Carole Orton, and Barb Nowak; daughters-in-law Patty Petrowski and Susan Twetten.
Ginny was a devoted wife, mother, and sister, and a wonderful friend to everyone she knew or came in contact with. She was an inspiration to all in her love, kindness, sense of humor and fortitude, and will be forever remembered fondly by all whose lives she touched.
Ginny is survived by her devoted husband of 44 years, Jim Twetten of Scottsdale; son Matt, his wife Patty, and their two daughters Cecelia and Violet of Chicago; and son Dan, his wife Susan, and their two daughters Jane and Else of Boulder CO; and sister Margaret Woodward of Moorhead MN. She was preceded in death by her parents, Robert and Isabelle Moore, and her sister, Roberta (Moore) Reese.
Virginia was born August 5, 1945, in Walker, MN, to Robert and Isabelle Moore. She was raised in Walker and graduated from Walker High School in 1963, and Bemidji State University in 1967 with a bachelor's of arts degree in social work.
She married Jim December 27, 1969. They lived and raised Matt and Dan in Princeton MN before moving to Scottsdale in 1998. Virginia worked devotedly and diligently for the Mille Lacs County Department of Family services for 20 years, working to place hundreds or children for custody or adoption. She loved her job and the children and families she assisted.
Ginny loved all people unconditionally and treated all around her with dignity and grace. She loved laughing with her many friends from Walker, college, and Princeton, and especially loved spending time with her sisters Margaret and Roberta. She also loved animals, especially dogs, and particularly her beloved golden retriever Phineas.
Ginny perhaps loved best of all spending time at the family's lake house on Ten Mile Lake, especially when the house was busy with family, sisters and friends.
Ginny lived bravely and fully with multiple sclerosis for 30 years. She overcame MS to continue enjoying all of the things she loved in life ─ her family, friends, traveling, going out to eat, shopping, and going to movies. She was an inspiration in life as well as in death.
(Information taken from the Walker, MN Pilot-Independent, August 13, 2013.)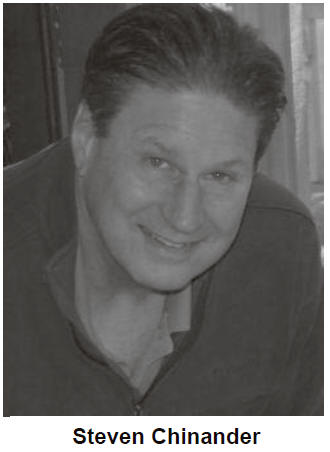 Born December 7, 1951 in Minneapolis to Ken and Frieda Chinander, Steve died at the family cabin on Foresman Point Road in a tragic accident on August 13, 2013. Preceded in death just three months earlier by both parents, the tragedy dealt a severe blow to Steve's family--wife Pat, daughters Ashley, Megan and Allie, and sisters Elaine (Chuck) Neitzel, Margaret (Mark) Vacura and Linda (Michael) Schwartz. That Steve died at the lake he so loved, where he had spent so many summer days with family and friends, made the accident all the more poignant.
Steve's teen years were spent in Arden Hills, north of the Twin Cities, and often at Ten Mile after his folks purchased a cabin on the south shore in 1966. Steve graduated from Moundsview High School and later from Hamline University in St. Paul where, in both cases, he captained the varsity basketball team. Steve initially joined his father Ken's heating and air conditioning business but, in the early 80's, he started a stationary business with wife Pat. That business grew into two companies, "Paperweight" and "Love from Minnesota."
Following his passion for sports, especially basketball, Steve coached and accompanied his daughters on tournaments across the state and country. He also traveled the globe with his family and maintained his love of skiing and swimming with frequent trips to Ten Mile Lake.
Steve's many loyal friends and family members enjoyed his affability, gentleness, generosity, good humor, humility and kindness. We will miss him.
(Information provided by J. Michael and Linda Schwartz)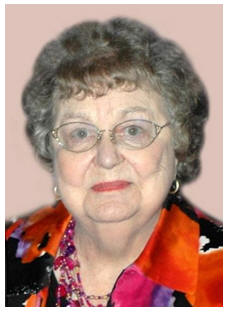 Alpha L. (Johnston) Sandage, 84, of West Des Moines and formerly of Ames, passed away on Tuesday, June 18, 2013, at Wesley Life Hospice at Edgewater, in West Des Moines. In agreement with her wishes, cremation rites have been accorded.
Alpha was born on Oct. 6, 1928, in Forest City, to John Francis "Jack" Johnston and Alice Anette (Severson) Johnston. She graduated from Forest City High School in 1946 where she participated as a cheerleader and drum majorette.
Alpha attended Waldorf Junior College for one year and finished a two-year elementary course at Iowa State Teachers' College in Cedar Falls, where she was named "Old Gold Queen." Her first teaching job was in Belmond where she met a young vocational-agriculture teacher named Duane Sandage. They were married on June 19, 1949, in Forest City. They lived in Belmond, Iowa Falls, Clarion, Ames and West Des Moines. They also enjoyed summers at their cabin on Ten Mile Lake in northern Minnesota, and winter trips to Sanibel Island in Florida.
(Information provided by Robert Crom, from the Ames Tribune.)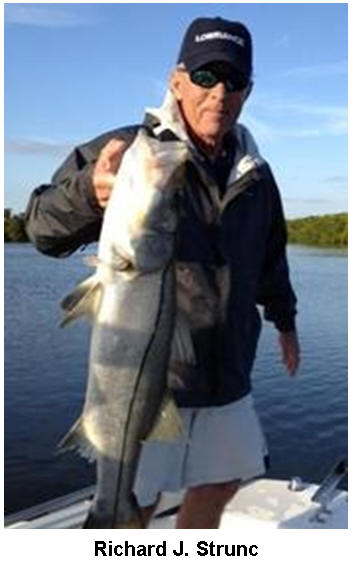 (August 22, 1944 - May 28, 2013)
Richard (Rich) J. Strunc, age 68, passed away on May 28, 2013 at his Sanibel, Florida home after a courageous battle with cancer. Rich was born on August 22, 1944 in Chicago, Illinois. An accomplished fisherman and outdoorsman, Rich enjoyed spending time on Sanibel Island and at his lake home on Ten Mile Lake in Hackensack, Minnesota. Rich was a successful businessman and maintained an active interest in politics and current events.
Rich is survived by his wife Bonnee Strunc of Sanibel, daughters Lisa (Brian) Peiser of Deerfield, IL, Kathleen Premo of Clearwater, FL, and Jennifer (Aaron) Lambrecht of Nicollet, MN, and his brothers Alan, Paul, and Bruce Strunc. Rich is also survived by his grandchildren Sophia, Alexander, Vivienne, and Ava Peiser, Nathaniel and Sada Premo, Mia and Braedon Lambrecht, and Hannah and Nate Woodward. Rich was preceded in death by his first wife of 33 years, Judith Ann Strunc, and his parents, Angeline and John Strunc.
Rich graduated from Northern Illinois University and then began his business career with Service-Master Corpor-ation, and subsequently owned and operated three McDonald's stores in Southeastern Minnesota. Rich retired in 1997 to take care of his late wife Judy. He enjoyed fishing at his winter home in Florida and summer home in Minnesota. Rich met Bonnee Woodward while on Sanibel Island and they were married at the Chapel by the Sea on Captiva Island in 2005. Rich and Bonnee shared a love of fishing, boating, biking and tennis along with an active social life with their many friends. Rich was widely admired as a devoted family man, businessman, sportsman and friend. He was very involved in his local communities including the Owatonna MN Rotary, Owatonna Chamber of Commerce and the Owatonna Foundation. A memorial service will be held in the fall at the Chapel by the Sea on Captiva Island. For those that knew and loved Rich, this prayer characterizes him well:
A Fisherman's Prayer
I pray that I may live to fish
Until my dying day.
And when it comes to my last cast,
I then most humbly pray:
When in the Lord's great landing net
And peacefully asleep
That in His mercy I be judged
Big enough to keep.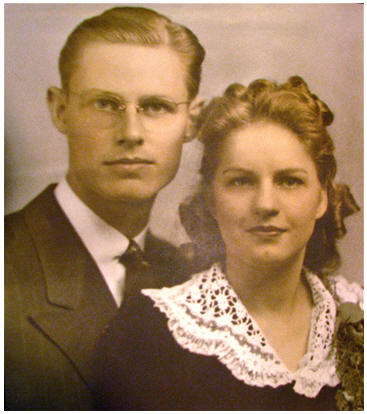 Long time Ten Mile Lake summer residents, Kenneth and Frieda Chinander, passed away this spring, 2013. Ken was born in St. Croix Falls, Wisconsin on June 14, 1917. Frieda was born on May 14, 1919 and, like Ken, grew up in rural Wisconsin. They were married in 1940 and were true life partners in all ways. When WWII erupted, Ken served in the navy in the South Pacific. Ken and Frieda raised 4 children and co-owned Surburban Heating and Air Conditioning Company in Spring Lake Park, a northern suburb of Minneapolis. In 1966 they purchased one of the Pebble Beach cabins on Ten Mile Lake. After a few years, they sold that old cabin and built a two story summer place just two lots to the west. There, they and their children, nine grandchildren, and sixteen great grandchildren spent many summers enjoying Ten Mile and the surrounding area.
Ken and Frieda enjoyed fishing, card playing and especially eating Walleyes. Frieda was also an avid rock hunter and liked picking wild berries. Beyond Ten Mile, traveling around the country and the world became a frequent adventure for both of them. Their children Elaine (Chuck) Neitzel, Margaret (Mark) Vacura, Linda (Mike) Schwartz, and Steve Chinander, and grandchildren spent many summers boating, fishing, water skiing, swimming, attending parties with other Ten Milers, and building fond memories and friendships. Frieda passed away on April 21 and Ken joined her just 3 weeks later. You will still find many of their children, grand-children, and great grandchildren around Ten Mile Lake in the summer and active in the Ten Mile Lake Association.
(Information provided by Linda and J. Michael Schwartz.)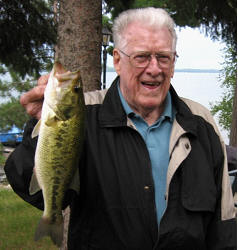 Dr. Donald F. Purvis was reunited with his beloved wife, Alyce, on March 28, 2013 in Lincoln, NE. On December 12, 2012 he and his family and friends celebrated his 97th birthday. He is survived by daughters C.Leigh (Warren) Gerber and Lynn (Ross) McCown and his son Rick; grandchildren Mike (Mary Susan) Gerber, Geoff (Chelsea) Gerber, Victoria (John) Marszalek, Vanessa (David) Harris, C.Leigh (Jason) Hellbusch, and Chris McCown; and, nine great grandchildren listed on name plates at the entrance to the cabin on Chariton Beach. Other survivors include nephews and great-nieces all of whom visited Ten Mile numerous times.
Don was stationed in a military hospital outside London during WWII where, among other duties, he was involved with the testing of the new miracle drug, penicillin. He and his family moved back to Lincoln where he began his internal medicine career. Making house calls was an integral part of his practice and continued until his retirement in 1984.
He began coming to Ten Mile Lake in the mid-1950's and purchased his cabin on Chariton Beach in 1959. Every summer since until last summer he vacationed at Ten Mile. He enjoyed all that the lake has to offer including fishing, boating, working on Alyce's "projects," golfing at Tianna, walking, pitch games, planting new trees and the annual battle with poison ivy on the hill behind the cabin. But more than that, he truly enjoyed the time with family, grand and great- grandchildren as well as enjoying numerous very, very close Ten Mile friends.
Don was a wonderfully caring physician, loving father, and cherished friend always with a sparkle in his eye. While pre-paring for his memorial service, we looked at hundreds of photographs, probably half of them of Ten Mile friends and activities. Our takeaway ─ he had 97 very good years and we miss him.
(Information was provided by Rick Purvis.)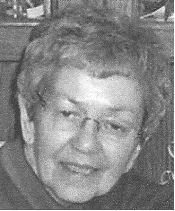 Luella Irene Malek, 73, of Walker, Minn., passed away peacefully Sunday, Feb. 10, 2013, at the Sanford Hospital in Bemidji surrounded by her family.
A Celebration of Life was held February 16 at the Northern Peace Funeral Home in Walker.
Luella was born September 26, 1939, in Brainerd, MN, the daughter of Leslie and Edna (Malmo) Ellestad. She was raised near the Backus area and graduated from Backus High School in 1957.
She met and married Chester L. Malek on November 21, 1958, near Pleasant Lake in Hackensack. Together they moved to the Twin Cities area and raised their family. They retired in 1993 and moved their family to Ten Mile Lake in Hackensack and later to Walker.
Luella was preceded in death by her parents and one sister Beverly McKinney.
She is survived by Chester, her husband of 54 years; children David (Julie) Malek, and Dawn (Bill) Nelson; and grandchildren Ashley Nelson and Cameron Malek.
(Information from the Walker Pilot-Independent, December 12, 2012.)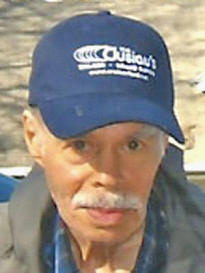 William "Bill" Andrew Johnson, 82, passed away suddenly Friday, Feb. 1, 2013, at his rural Hackensack home.
Bill was born Oct. 9, 1930, and spent his formative years on an Iowa farm before moving to Eureka, Calif., when his parents took jobs in the wartime production industry. He attended Humboldt State University, then joined the U.S. Air Force, serving in Seoul during the Korean War.
As the proprietor of Johnson's Clothing in Walker for more than 30 years, Bill's love for the city and its people grew with each passing year.
A voracious reader, Bill was a vessel of knowledge, wisdom and good humor. A kind, thoughtful and generous soul, Bill will be missed by all who were blessed to know him.
Bill is survived by family; Warren, Carolyn and Jeanie Nelson; Theresa Macioce; beloved friends, the Matt Lueck family; and a host of wonderful friends and neighbors.
He was preceded in death by his parents, Andrew and Marie (Dix) Johnson; brother Richard Johnson; and business partner, John Nelson.
(Information from the Walker Pilot-Independent, February 5, 2013.)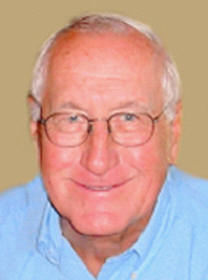 Clarke Bening was born to Erwin and Margaret Bening in Waterloo IA on December 7, 1931. He graduated from West Waterloo High School in January, 1950. He graduated from the University of Iowa, where he was a member of the Phi Delta Theta fraternity. While as Iowa, he met Christine Lear. They both graduated in 1954 and were married on December 28, 1954. After college Clark served as an officer in the United States Air Force until 1957. After his stint in the Air Force, he and Chris moved to Topeka, Kansas where he joined his brother Arnett in the insurance business. This was the beginning of a 55-year career where Clark excelled on many levels. He was a career Million Dollar Round Table and Top of the Table qualifier as well as earning the designation of Certified Life Underwriter.
In 1974 Clark established Bening Financial and continued to be leader in the industry, where he was Principal Financial's Agent of the Year on seven separate occasions. Clark was well respected in his community; he served on the board of the Orchard Place as well as of the Wakonda Club, of which he and Chris were long-time members. He was a Rotarian for many years and a member of the vestry at St. Andrews Episcopal Church. Clark was passionate about the YMCA where he not only played handball on a regular basis but also served on the board.
Clark has three children and five grandchildren. He loved spending time with his family and friends. He enjoyed sunsets and Scotch, his cottage at Ten Mile Lake, and his beloved place on the 14th green in Rio Verde, AZ. He was an avid Iowa fan and spent many years watching the Hawkeye football team and tailgating in Iowa City. He and Chris enjoyed traveling and loved their trips to Africa, Turkey, South America, the Caribbean, the Mediterranean, and elsewhere.
A service and reception were held Saturday, January 12. Clark is survived by his wife of 58 years, Christine Bening; his daughter Beth and her husband Chris Martin (Palo Alto, CA); his son Ray and his wife Carrie (Des Moines, IA); his daughter Maggie (Palo alto, CA); his granddaughter Megan and her husband, Tim Strickland (San Francisco, CA); his grandson Jake (New York, NY); and his granddaughters Katherine and Charlotte and grandson Eddie (Des Moines, IA)
(Information from the Des Moines Register, January 12, 2013, sent in by Jack Adams.)
Howard J. Hecker, 78, of Coon Rapids, MN, passed away January 27, 2013, at home surrounded by family. He was born December 27, 1934, in Audubon, Iowa, the son of the late Elvina and Daniel Hecker. He was the youngest of four siblings. He graduated from the University of Northern Iowa in 1957. He married Carole Sue Chaney on August 4, 1956. He started his teaching career in the fall of 1957 at South Tama Community High School, Tama IA, as an Industrial Arts Instructor for grades 7-12. In 1966 he moved to the Anoka-Hennepin ISD 11 and started teaching for the next 34 years first at Anoka Junior High, then Fred Moore Junior High/Middle School, until his retirement in 1999.
He is survived by his wife Carole; son and daughter-in-law, Mike and Connie Hecker of Ham Lake, Minnesota; daughter and son-in-law, Jay and Laura Youngman of Lake Tahoe, California; daughter and son-in-law, Robert and Julie Campbell of Reno, Nevada; sister, Henrietta Wheeler of Rochester, Minnesota; brother Leland Hecker of Osborne, Idaho; eight grandchildren and three great- grandchildren. A memorial service will be held in Hackensack, Minnesota, at a later date.
V.K Livingston, a long-time neighbor of Howard on Long's Bay, describes Hecker as "a great guy, always there to help if he could. He loved nature and animals, especially cats. He enjoyed fishing, and, when he was younger, water-skiing. He has spent his summers on Ten Mile since he was a boy, and, being a teacher, he continued to spend his summers there. We will always miss him."
(Information provided by V. K. Livingston.)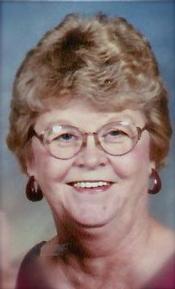 Constance Ann "Connie" Goetze age 71 of Baxter passed away Sunday January 13, 2013 at the Marie Steiner Kelting Hospice House in Chaska.
Memorial Mass of Christian Burial held Saturday January 19, 2013 at 11:00 am St. Hubert's Catholic Community (8201 Main Street), Chanhassen with a gathering of family and friends Friday 4:30 – 7:30 pm and 1 hour prior to the Mass all at the church.
Connie was born on August 26, 1941 in Minneapolis, MN the daughter of Willard and Kathryn (Ivers) Pauly. She was baptized and confirmed at St. Hubert's Catholic Church in Chanhassen. On September 24, 1960 Connie was united in marriage to David Goetze at St. Hubert's Catholic Church in Chanhassen. Connie and David made their home in Baxter, MN since 1973 where she worked for the Crow Wing County Social Services for 28 years retiring in 2005 as a supervisor. Connie enjoyed going to work every day being with her co-workers and helping people. She was a faithful church member who volunteered whenever needed. She was a very social person who loved lunch with friends, being with family and striking up a conversation with a stranger.
Connie cherished her grandchildren and loved to spoil them. The time spent at Ten Mile Lake was always special. She loved traveling to the gulf coast of Alabama for winter vacations, hanging out at Bubba's Seafood listening to the music and visiting with the other snowbirds. She looked forward to the annual Mardi Gras parades. Connie also enjoyed shopping, cooking and baking cookies.
Connie is preceded in death by her parents Willard and Kathryn Pauly; father-in-law and mother-in-law Darwin and Dorothy Goetze; sister-in-law Carol Stodola.
Connie is survived by her loving family; husband David Goetze of Baxter; children William Goetze of Brainerd, Carla (Robert) Wallace of Minnetonka, Paul Goetze of Stewartville, Carrie Hanson of Hastings; grandchildren Jacob, Joseph, Lindsay, Kathryn, Zachary, Adam, Alex, Hunter; brothers Steve (Dolly) Pauly of Hackensack, Thomas (Lynn) Pauly of Chanhassen; sister Mary (Duane) Goetze of Carver; sisters-in-law and brothers-in-law Marjorie and Donald Olson of Carver, Don and Mary Goetze of Chanhassen, Dale Goetze of Akeley, Charlotte and Lowell Yahnke of Princeton, Sandra and Fritz Coulter of Amery, WI, Jolene McNaughton of Carver, Dean Goetze of Princeton, Daniel and Julie Goetze of Waconia; nieces, nephews other relatives and friends.
Her brother, Tom Pauly, notes that the cabin belonging to their parents (Dutch and Kay Pauly) will by 2019 have been in the family for 100 years.

(Information provided by Tom Pauly.)
Arrangements with the Johnson Funeral Home in Waconia; www.johnsonfh.com
(Information provided by the Johnson Funeral Home.)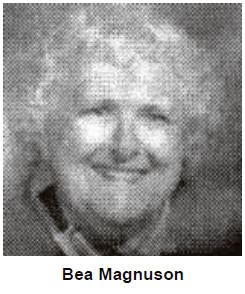 Beatrice "Bea" Magnuson, of West St. Paul and Hackensack, MN, passed away on January 11, 2013 at the age of 90. She was preceded in death by her husband, William C. Magnuson, and daughter Ruty.
She is survived by children Sally (Scot) Armstrong, Julia (Terry) Heaver, and Peter (Helga Fabianski) Magnuson, and four grandchildren.
Bea enjoyed gardening, her lake home, and spending time with family. A memorial service was held January 26, 2013 at The University Club in St. Paul, with interment at Riverview Cemetery.
(Information obtained by Phoebe Alden.)