Remembering our Ten Mile Lake Friends...2007
Robert (Bob) G. Pasley, 92, of Ames, IA, died November 16, 2007.
Bob was born May 17, 1913 in Ames, IA. He graduated from the University of Iowa, receiving both a Bachelor of Arts degree and a Juris Doctor degree. He began the practice of law in Ames in 1939, ultimately retiring in 1980. He served as Ames City Attorney and was elected to the Ames City Council. Bob also served his country in the U.S. Army in Europe during World War II.
He is survived by his wife, Mary; three sons and daughters-in-law; seven grandchildren; and fourteen great grandchildren.
Bob first visited Ten Mile Lake with his parents in the late 1920s. Ten Mile became his vacation place of choice as an adult, and he and his family stayed over the years at most of the then many resorts on north shore. In 1970, Bob and his wife built their cabin on Ten Mile's South Shore. This cabin, his sentinel white pine in front, and Ten Mile Lake were very dear to his heart.
(Information provided by Clarke A. Pasley, son.)
Catherine Gladson Manlove, 81, passed away peacefully on November 14, 2007. Catherine was born January 16, 1926 in Duluth, MN. She was preceded in death by her parents, Anna and Walter Gladson, and by her husband, Dr. Charles H. Manlove III. She is survived by daughter Mary and sons Dr. Jeffrey Manlove (Deb) and Christopher Manlove ( Cathy); by grandchildren Abigail, Lucille, and Theodore; and by cousin William Donning of Arizona.
Catherine grew up in Duluth, MN and graduated from Duluth Central High School in 1947. She attended Carleton College and graduated from the University of Minnesota in 1947, with a degree in Medical Technology. She met her husband while working at Ancker Hospital in St. Paul. Classical opera played a large role in their lives. Catherine joined the board of directors of the Twin Cities Opera Guild in 1957. Cathy, as she was known there, was president of the Guild from 1982-1985 and was on the National Board of Opera Guilds International for six years. Her passion was opera education for children, and she served as TCOG Education Chair from 1985 to 2004. She also valued her friendships in PEO and in the Summit Investment Club. She loved her cabin on Ten Mile Lake and spent many summers there with her family, where she enjoyed fishing and playing bridge. Catherine was generous and was good at including others in her group activities. She will be missed greatly by her family.
A special thanks is given to her caregivers, Mary Nelson and Chris Davis, to Health East Hospice, and to the staff of Sunrise Assisted Living at Roseville. A memorial service was held on Saturday, November 17, 2007 at St. Clement's Episcopal Church in St. Paul.
(Information provided by the Manlove family.)
Paul Eugene Osborn, 90, of Hackensack, MN died Thursday, October 11, 2007 at St. Joseph's Hospital in Brainerd, MN with his wife and daughters at his side. He was born July 23, 1917, to Clement Able and Eunice Derr Osborn in Danbury, IL. He married Ruth Gragert at the Little Brown Church in the Vale, Nashua, IA, and they enjoyed 68 years of marriage, love, and friendship. Their life together was full of rich experiences and challenges.
During World War II, Paul served in the Army Air Corps and flew rescue missions out of Burma. He earned a bachelor's degree in engineering and a graduate degree in fisheries at Iowa State University in Ames, Iowa. His career with the United Nations as a fisheries biologist and culturist took the couple around the world, where he set up fish hatcheries in underdeveloped countries. In earlier years, he worked with private hatcheries in the United States, raising fish, developing large automated feeders, and improving ways to transport fish to market or stores. His specialty in fish diseases made him a worldwide expert.
Paul is survived by his wife Ruth; two daughters, Prudence and Eugenia; one son, Philip; four grandchildren, two step-grandchildren, and two great-grandchildren. He was preceded in death by his parents, one brother, and one sister.
Funeral services were held October 15 at Union Congregational Church in Hackensack.
(Information from the Walker Pilot-Independent, October 17, 2007.)
Harold Jensen, 95, formerly of Hackensack, MN died on Sunday, September 30, 2007 at the Wellstead in Rogers, MN. Harold lived on the North Shore of Ten Mile Lake from 1976 to 2001, most of those years with his wife Margaret who passed away in 1997.
Harold was born in Decorah, IA on November 2, 1911 to Martin and Marie Jensen and lived there until retirement in 1976 when he and Margaret moved to Ten Mile Lake. He attended Decorah High School, worked on the AlCan Highway construction project during World War II and for H&W Motor Express. He married Margaret Eidenschink in 1934 and they shared eleven children. Their son, Michael Jensen, and his wife Diane are now the current owners of Harold's property on Ten Mile Lane.
Harold and Margaret were active members of Sacred Heart Catholic Church in Hackensack and for many years were the coordinators for the summer Flea Markets sponsored at the church. They loved the Ten Mile Lake environment and community and shared many treasured memories of their lives and friends on the lake. Both are buried at Hillcrest Cemetery in Hackensack.
Harold is survived by two daughters, seven sons, 20 grandchildren and 16 great-grandchildren. Preceding him in death were his parents; his wife, Margaret; one son, Jerry; one daughter, Jeneen; and his brother, Eric. Funeral services were held on October 3, 2007 at Sacred Heart Catholic Church in Hackensack.
(Information sent by Michael Jensen, son.)
Arnold "Arnie" Anderson, 89, of Hackensack, MN died Thursday, August 30, 2007.
Arnie served in the Civilian Conservation Corps and in World War II. He was employed by Wahl and Wahl in Minneapolis, and later, owned Lighthouse Point Resort, the Hi-Way Trading Post, and Woock's store, all in Hackensack. He was an officer with the Hackensack American Legion and the Hackensack Chamber of Commerce. He had a smart wit, and was loved by many.
He is survived by one daughter, Judee (Terry) Labissoniere; two grandchildren, two great-grand-children; one nephew, Greg Johnson; and one niece, Sharee Johnson and family. He was preceded in death by his wife, Ruth. A memorial service was held September 4, 2007 at the Unitarian Universalist Church of Minnetonka.
(Information from the Walker Pilot-Independent, September 5, 2007.)
Rudy Kermit Haukom, 95, of Austin, MN, died Sunday, May 20, 2007 at Comforcare Good Samaritan Center in Austin.
He was born January 20, 1912 in Vernon Township near Hayfield, MN to Lauritz and Olina (Berge) Haukom.
He attended the Vernon Township country school until sixth grade. He married Freda Katherine Hobkirk on March 28, 1936 in Osage, Iowa. He served in the U.S. Navy from 1944 to 1946. He then worked at Hormel Foods in Austin for 41 years, and also farmed in the Austin and Oakland areas for sixteen years. His favorite hobby was to go fishing.
After they retired, the couple moved to Hackensack, MN, near Ten Mile Lake, and spent winters in Patio Gardens, AZ.
Rudy Haukom is survived by his son-in-law, Dean Martin of Oakland; nine grandchildren; 27 great-grandchildren; 10 great-great-grandchildren; and many nieces and nephews. He was preceded in death by his parents; his wife Freda; two daughters, Jean Martin and Arlene Dients; three grandchildren; five brothers; and five sisters.
After funeral services at St. Olaf Lutheran Church in Austin, he was interred at Grandview Cemetery in Austin, with military rites.
(Information from the Walker Pilot-Independent, May 4, 2007.)
Kenneth B. Jones began coming to Ten Mile Lake when courting Mary Macklin in the late 40s and did not miss a summer until after 2004, his last visit. For many years his stays at Bill and Ada Macklin's "Big Red" cabin on Batchelor Bay included fishing, boating, swimming, teaching his four kids to swim and water ski, and socializing with the Petersons, Johnsons, Nordlunds, Kolderies, Sundins and others along the shore. Outings for sunfish required slapping the surface of the water with the oar before throwing in a worm-laced hook. He insisted that sunfish liked the activity. He dutifully recorded each two-week vacation in the cabin log book. When he took up golf and discovered Tianna Country Club, paradise got even better.
Ken earned a Bronze Star for valor for his participation in the Battle of the Bulge as part of the 87th "Golden Acorn" infantry during World War II. He worked in reconnaissance for most of his 34 months of service at the rank of sergeant. His family was surprised to learn recently about his military accomplishments because he preferred instead to talk about his role in the cigarette trade of the Paris underground.
He studied at the University of Minnesota on the G.I. Bill and completed his law degree at the University of Minnesota College of Law. He worked for Anchor Casualty Insurance from 1950 until he began the private practice of law in 1962 with O'Connor, Green, Thomas, Walters, and Kelly (later O'Connor & Hannan) in Minneapolis. He retired in 1980. Ken resided his entire life in South St. Paul, Minnesota. The SSP Education Foundation awards an annual valedictory scholarship in his name.
In 1988, his wife, Mary Macklin Jones, bought a waterfront lot from the Howe section on Robinson Bay and soon after built her cabin on the hill with a good view of Ten Mile sunrises, regattas, and Angel Island. Ken found himself at home there and enjoyed the view for 5 months a year during his later period of Ten Mile summers. When grandchildren visited, they could count on the fact that Grandpa kept the hummingbird feeder full. Over those years, Ken has attended three Macklin family reunions, several lakeside weddings and July 4th picnics, and played countless holes at his favorite course in the pines. Ken's cabin social life was enriched by time spent with Mary's family: Jean and Gail Johnson (Portage Lake); John Macklin (formerly of Walker); Bill and Becky Macklin, and later Judy Macklin, (Ten Mile Lake); Ellie and Bob Nelson (Portage Lake); and Phoebe and Randy Vosbeck (Ten Mile Lake). He especially enjoyed the conversation of the weekly Ten Mile men's coffees and the camaraderie of the Tianna Senior Men's group.
He is survived by his wife of 57 years; and his four children and their spouses: Cheryl Jones of Menomonie, WI; Connie and Dan Bonk of Mendota Heights, MN; Kay Bea Jones and Christian Zacher of Columbus, OH; and Jason and Linda Grimm Jones of Edina, MN; seven grandchildren and their spouses: Shawn and Jackie Schmidt, Kelley and Samantha Schmidt, Jesse and Corrie Schmidt, Sam Zacher, Candice, Brooke and Paige Jones; and three great grandchildren (with one on the way), Danny, Isabella, and Destiny Schmidt.
(Information provided by Kay Bea Jones.)
Leone Helen Carey died suddenly and unexpectedly from the effects of a cerebral hemorrhage on May 1, 2007 in Minneapolis, MN at the age of 81 years. She was born in Staples, MN on July 24 to Melvin and Emma (Roe) Schuck.
With her husband Pat and children, she came to Kenfield Bay in 1968; the beautiful white pines, the possible swimming beach, and the view across the bay clinched the sale. The family cleared the land and camped for several years before building the first version of their summer place. For a city girl, she took very nicely to fishing. Her delight was the northern pike and the largemouth bass, and she provided well for her family.
In addition to her family and friends, she enjoyed the feast days, shopping for bargains, conquering the daily crossword puzzle, out-pegging you in a game of cribbage, a good game of bridge, outfishing anyone in the boat, the view across the Bay, and passing on the books that she deeply enjoyed.
Leone and and Pat were married at Salem Lutheran Chruch in Minneapolis, MN on August 27, 1948. She is survived by her husband and their children: Coleen (David) Pantalone, Jean (Bruce) Carey, Trish (Don) Arbach, Margaret Carey, Barbara (Kim) Spotts, Cathy Carey, Pat III (Kristine) Carey, and Polly (Chris) Friendshuh; twenty grandchildren; two great-grandchildren; two sisters, Peggy and Carol; and many nieces and nephews. She is sorely missed but joyfully remembered.
(Information provided by Pat Carey.)
Jon Curtis Unger, of Bemidji, died after a long battle with cancer, on Thursday, April 26, 2007, at his home in Bemidji.
Jon was born on April 4, 1965, In Minneapolis, MN, the son of Jerome and LaVonne (Grosser) Unger. He graduated from Neil Armstrong High School in 1983, and from the University of Minnesota with a BS in Business in 1991. He went on to work for Rosemount, Onan Corporation, Cummins Engine, and eventually as a manager for TEAK Industries in Bagley, MN.
Jon and Michelee Spears married on the shores of Ten Mile Lake in Hackensack on July 4, 2003. He enjoyed spending time with family and friends. He also enjoyed collecting antique fishing lures, coins, watches, sports memorabilia, riding his Victory Kingpin motorcycle, NFL football, snowmobiling, boating, and fishing on Ten Mile Lake. He loved the outdoors and nature too, He always knew how to make someone smile with his smile and humor. He was loving, caring, and always there for someone when needed.
He is survived by his wife, Michelee Unger of Bemidji; stepson Justin Steele; parents Jerome and Lavonne Unger of Plymouth, MN; sisters Lynn (Lou) Hermanek of Plymouth, MN and Lisa (Mark) Ulrich of Oak Grove, MN; and niece and nephew Rachel and Dan Ulrich. He was preceded in death by his brother, Scot Unger.
(Information provided by Jerry Unger.)
Freda Katherine Haukon, 93, of Austin, MN, died Thursday, April 19, 2007 at Comforcare Good Samaritan Center.
She was born November 30. 1913, in Lyle, MN to Henry and Marie (Schwandt) Hobkirk. She attended Lyle Country School until eighth grade. She married Rudy Haukom March 28, 1936. The couple owned the Charity Nook Restaurant in the 1940s. She also worked at Hormel Foods for fifteen years, was a homemaker, and helped her husband on the family farm.
In their retirement, the couple spent winters in Mesa, AZ, and summers at their lake home on Ten Mile Lake. In her spare time she enjoyed sewing, crocheting, and fishing. She was a member of St. Olaf Lutheran Church in Austin and Hope Lutheran Church in Walker, MN. She is survived by her husband, Rudy, of Austin; one son-in-law, Dean Martin, of Oakland, MN; one sister, Myrtel Peters of Bakersfield, CA; nine grandchildren; 27 great-grandchildren; and ten great-great-grandchildren.
She was preceded in death by two daughters: Jean Martin and Arlene Dients; three grandchildren, and one brother, Lee Hogkirk. Funeral services were held April 23 at St. Olaf Lutheran Church, with interment at Grandview Cemetery in Austin.
(Information taken from the Walker Pilot-Independent, Wednesday, April 25, 2007.)
William M. "Bill " Dailey Jr., 63, of Westlake Village, Calif., died of cancer at his home on February 14, 2007.
He was born November 27, 1943, near Roland, Iowa, and grew up in Ames, Iowa. He graduated from Ames High School in 1962 and from Iowa State University in 1967. He was a member of Sigma Phi Epsilon fraternity.
After graduation, he was employed by Allstate Insurance Co. at their Chicago headquarters, where he was a pioneer programmer and executive in the computer department. He remained with Allstate until the late 1980s, when he took a position with Twentieth Century Insurance Co. of Los Angeles as vice president for information services; he worked there until his retirement.
He was a summer resident of Ten Mile Lake where he and other family members shared a summer home complex. He was an avid fisherman who claimed he enjoyed being out on the lake as much as actually catching fish, and an excellent golfer who enjoyed many of the golf courses in the area.
He is survived by his mother, Laura Dailey of Ames; two daughters, Sarah of Middleton, WI and Amy (Clayton) Williams of New Orleans, LA.; three grandsons; two sisters, Susan (Larry) Donaldson of Nevada, Iowa, and Christie of Chicago; one uncle, Andrew (Carmen) Christensen of Peoria, Ariz.; three aunts, Betty Christensen of Nevada, Iowa, Amanda (Fred) Brosius of Ames; and Mary Lou (John) Nissly of Iowa Falls, Iowa, and by several cousins and their families.
(Information provided by Laura Daily and the Walker Pilot-Independent, February 16, 2007)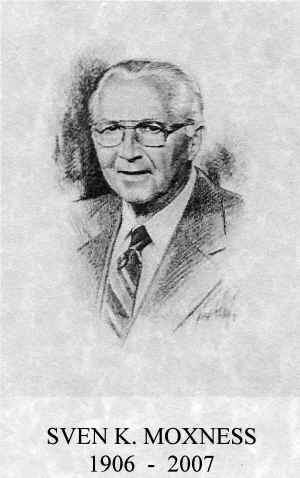 Sven Kielland Moxness passed away February 14, 2007 at the Three Links Care Center in Northfield, MN., at the age of 100.
He was born December 19, 1906 in Trondheim, Norway, to Arne and Augusta (Kielland) Moxness. He came to the U.S. in 1925. He became Chief Process Engineer for Minneapolis Honeywell from 1936 to 1950. During WWII he was involved in many of Honeywell's military projects, including the development of the Norton Bomb Sight. In 1951 Sven left Honeywell to join his uncle in his tool and die company in Racine, Wisconsin. His plants, including Moxness Products, were located in a number of Wisconsin communities. The companies evolved into the Plastics Corporation of America and in 1969 the company became Versa Technologies, which included Stearns Manufacturing of St. Cloud, MN. Sven remained as Chairman of the Board of Versa Technologies for years after his retirement.
As a pioneer in the silicon and plastics era, he delivered countless technical papers all over the world and held numerous patents involving the molding of silicon and plastics. During his retirement Sven was a Charter Member of the Royal Poinciana Gold Club of Naples, FL.
Sven was preceded in death by his wife of 65 years, Esther; his sister Lisa; and his brothers Ola and Tore. Survivors include two daughters: Karen Lund-Brust and husband Frank of Minneapolis and Linda Merritt and husband Ron of Wheeling, Illinois; nine grandchildren and their spouses; 18 great- grandchildren; his close friend Jean Perman of Northfield, his sister-in-law, Jennie Moxness of Norway, many nieces and nephews in Scandinavia, and other relatives and friends.
(Information provided by Karen Lund-Brust)
Long-time Ten Mile Laker Shirley Siqveland passed away on January 7, 2007 at Kay's Pine Chalet, in Akeley, MN.
She was born in Indianapolis, Indiana on January 27, 1915 to Frank "Rollie" and Ann Buck.
With her parents and brother Robert, Shirley arrived at Ten Mile Lake in the summer of 1925, where they stayed with Egon and Helen Reese, her aunt and uncle, in their cabin on Chariton Beach. Two years later they built their own cabin two lots to the west of the Reeses, where Shirley spent nearly every summer until 1995. Her family continues to enjoy Ten Mile Lake.
In the early 1930s, Shirley met her husband to be, Ivar Siqveland Jr. at Ten Mile. Ivar's parents had built a cabin in 1923 on Sunset Beach and owned property along that shore, much of which was sold off to future Ten Milers. After Ivar's service in WWII, they returned to St. Paul, Minnesota, where Ivar assumed the dental practice his father had started. While Ivar commuted to Ten Mile on weekends, Shirley and her four sons spent summers at the Lake.
Shirley especially enjoyed gardening, sailing, swimming, and nature. She was an avid reader and delighted in spending time with her good friend, Fran Brandt, whose four boys were constant companions with her own four boys.
Shirley was preceded in death by her parents, brother, and husband. She is survived by her four sons: Ivar III (Peggy), Robert (Ellen), James, and Thomas (Colleen), as well as six grandchildren and one great grandson.
(Information provided by Ivar Siqveland III)