Please click here to see the MDNR's list of Certified Lake Service Providers.
---
The TMLA Shop
---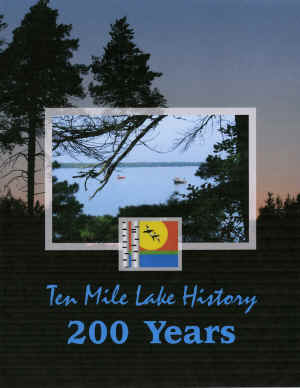 "Ten Mile Lake History: Two Hundred Years", can be purchased for $35.00/copy plus $5.00 shipping and handling.
The TMLA History Committee was excited to announce the publication of this book which came out in 2007. It includes Ten Mile family and neighborhood histories, lake development stories, fishing and boating and other stories, maps and pictures that friends of Ten Mile will enjoy.
Books were first available at TMLA's 55th Annual Meeting on August 4th, 2007 at Union Congregational Church in Hackensack, MN. Everyone who has a connection with Ten Mile will want a copy of this fine, hardcover book, not only for themselves but as a gift for friends and family members of every generation. From cover to cover, it is full of stories and wonderful memories of Ten Mile dating from the time of the Louisiana Purchase to the year 2007.
To order, please contact Lorraine Stromquist (budlorr @ tds.net), Sue Eikenberry (tenmile @ tds.net), or Tom Cox (tbcoxreston @ aol.com). Spaces added to thwart spam.
---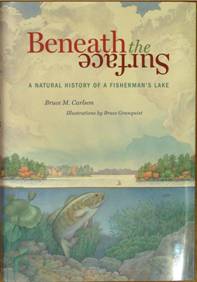 "Beneath the Surface" is a book about Ten Mile Lake, written by the chairman of our Environment and Ecology Committee Bruce Carlson, and published by the Minnesota
Historical Society, c/o Chicago Distribution Center, 11030 South Langley Ave, Chicago, IL 60628-3830. Phone 800-621-2736; Fax 800-621-8476.  Their code for "Beneath the Surface" is 578-1. The price is $27.95.
Al Griggs writes: "It comes close to being required reading for Ten Milers. I have read excerpts from the book and found them to be extremely interesting and informative, not just about fish and fishing (I would describe Bruce as being the Ten Mile Fishing Guru; he seems to be able to catch walleyes when no one else can!  He also writes articles for "In
Fisherman" upon occasion.) but including ichthyology, limnology, lake biology and ecology, and you name it. It is packed full of information which is presented with historical and ecological perspectives.  It is further enhanced with numerous illustrations which were done by his cousin, Bruce Granquist, a resident of the island of Bali."
This book became available on May 1, 2007. Copies may (might still) also be found at Swansons in Hackensack, and there may be other places in Hackensack or possibly Walker which carry it.
---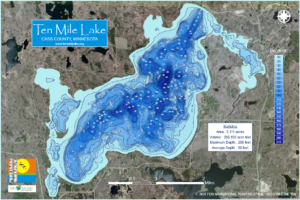 More information about the TMLA Depth Map is available here.